Topic RSS


Model 94 Flat Band Carbine survey
November 27, 2019
4:25 am

Kingston, WA
Forum Posts: 9690
Member Since:
April 15, 2005
Offline
November 27, 2019
5:28 pm
Northern edge of the D/FW Metromess
Forum Posts: 2291
Member Since:
November 7, 2015
Offline
Bert H. said

OK... but it is your addiction !  
True enough. It's a very unremarkable 70% gun but it appears solid and unmolested, unlike my bank account. 😉
Mike
Life Member TSRA, Endowment Member NRA
BBHC Member, TGCA Member
Smokeless powder is a passing fad! -Steve Garbe
I hate rude behavior in a man. I won't tolerate it. -Woodrow F. Call, Lonesome Dove
Some of my favorite recipes start out with a handful of depleted counterbalance devices.-TXGunNut
Presbyopia be damned, I'm going to shoot this thing! -TXGunNut
January 21, 2020
2:36 am
Forum Posts: 14
Member Since:
February 12, 2018
Offline
January 22, 2020
8:33 pm
Forum Posts: 45
Member Since:
November 21, 2018
Offline
February 3, 2020
3:40 am

Kingston, WA
Forum Posts: 9690
Member Since:
April 15, 2005
Offline
Chicky77@icloud.com said
Hey Bert I have one on hold at a gun shop up in Maine....

SN 1418524

30wcf

type 2 reciever

serrated hammer

havent taken apart for barrel date

I pick it up this weekend  
Thanks... I suspect that it will have a "47" marked barrel.
Bert
WACA 6571L, Historian & Board of Director Member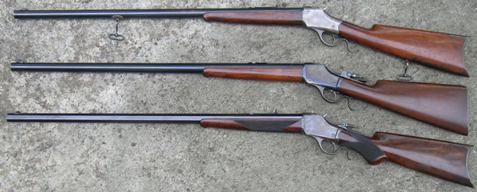 February 3, 2020
3:43 am

Kingston, WA
Forum Posts: 9690
Member Since:
April 15, 2005
Offline
Mlawrenceconstruction@gmail.com said
Don't know if you have this one, its new to my collection..: sn1494458.  30wcf.  serrated hammer.  type 2 rec.  smoothie mag cap  
Are you sure it is a type 2 receiver?  All of the Model 94s I have surveyed thus far with serial numbers > 1473000 have a Type 3 receiver frame.
Bert
WACA 6571L, Historian & Board of Director Member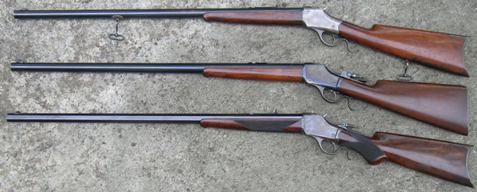 ---
Forum Stats:
Groups: 1
Forums: 16
Topics: 6994
Posts: 56849
Member Stats:
Guest Posters: 946
Members: 9035
Moderators: 5
Admins: 3