July 14-15-16, 2023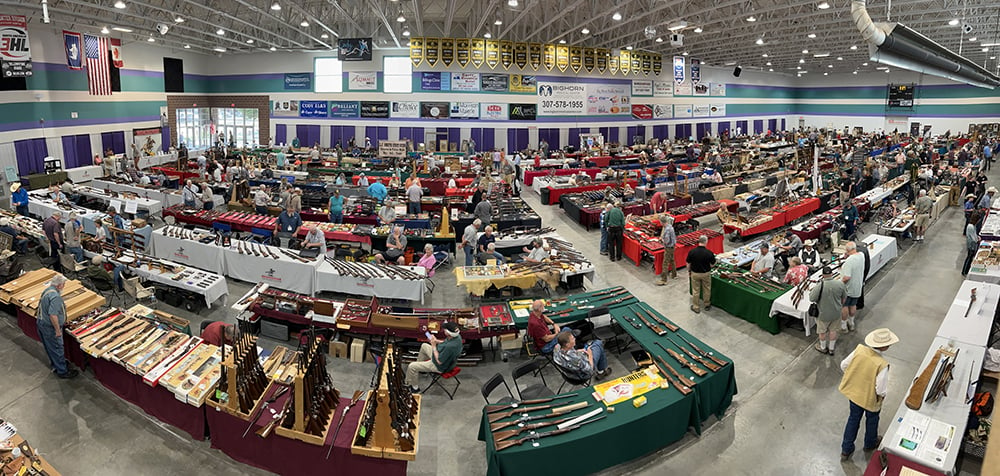 Riley Arena, 1400 Heart Mountain Street, Cody, WY
Over 300 Trade and Display Tables
Trade and Display Tables for this year are Sold Out
But we do get cancellations.
Please call our Cody Show manager, Vinny Martin at 508-922-9267 to be put on a waiting list for table reservations.
Thank you!
Hope to see you at the show!
or Download a .pdf version here and mail to the address on the form.
WACA is pleased to announce the addition of three new recognition awards for this year's show!
The Glenn Hockett "Best of Show" award of $500
The George Madis Best Educational Display award of $300
Best Single Gun award of $200
Exhibitors Hours
Thursday Exhibitor Set-up 9am-6pm
Friday & Saturday Exhibitor Hours 8am-5:30pm
Sunday 8am-2pm
Public Hours
Early Entry passes available for Thursday, 9am-6pm – $35
Friday & Saturday, 9am-5pm
Sunday, 9am-2pm
Admission
Children Under 12 – Free
General Admission – $8
3-Day Pass – $20
Early Entry – $35
Free Admission on Friday, Saturday & Sunday for WACA Members   Join Now
Events
Friday, 5:30 pm Annual Meeting, Coe Auditorium, Buffalo Bill Center of the West followed by hosted Members-only Reception.
Saturday, 6:30 pm Banquet, Raffle and Award Presentations; Guest Speaker; Advanced Reservations Required $45 per person – Contact WACA
Accommodations
Show Manager