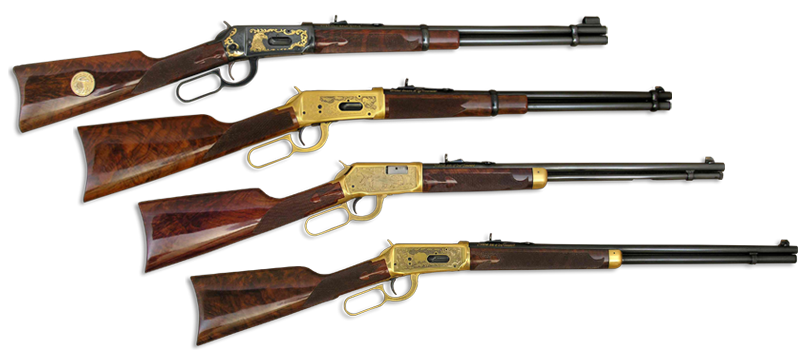 Winchester Commemoratives were first introduced in 1964, with the Wyoming Diamond Jubilee.  Each Commemorative was issued as a reproduction of a historically famous gun model or to honor a historically significant person, group, event or institution relating to U.S. or Canadian history.
Commemoratives are generally of very excellent quality and are often embellished with fancy stocks and metal finishes such as silver, nickel, or gold plating.  Manufactured to be instant collectibles, they are pleasing to the eye.  As with firearms in general, not all commemorative models have achieved collector status, although most enjoy an active market.  Commemorative collectors prefer new unfired guns as issued in their original factory boxes (most of these boxes were highly decorated) and with all paperwork, wooden cases, boxed ammunition, and other artifacts issued with or relating to the Commemorative.
Commemoratives were produced in relatively large numbers and consequently the "rarity" generating the collector value is grossly less than the original Winchester models that have become antique collector items today.  However, an impressive collection of Winchester Commemoratives can be assembled for a fraction of the cost of the antique models, and all in new to nearly new condition.  Even though some of the Commemoratives are extremely rare, Winchester Commemorative issues are an affordable way for beginning collectors to put together a variety of collections of new condition Winchesters to suit individual interests (States, Centennials, Indians, Lawmen, Canadian, etc.).
Interview with a British WACA Member and collector of Winchester Commemoratives on YouTube
Listed below are recognized as Factory Issues or Special Order and not after-market productions.  Consult the Blue Book of Gun Values for New in Box (NIB) current average values.
Legend
Rifle & Carbine *
Not Advertised in the US +
European (E)
Year
Model
Scheduled
Produced
Orig Price
1964
Wyoming Diamond Jubilee
1,500
1,500
$99.95
1966
Centennial '66 *
102,666
102,309
$125.00
1966
Nebraska Centennial
2,500
2,500
$100.00
1967
Canadian '67 Centennial *
97,395
90,301
$125.00
1967
Alaska Purchase Centennial
1,500
1,500
$125.00
1968
Illinois Sesquicentennial
39,699
37,648
$110.00
1968
Buffalo Bill *
122,169
112,923
$129.95
1968
Buffalo Bill Museum Presentation
300
300
$1,000.00
1969
Golden Spike
73,619
69,996
$119.95
1969
Theodore Roosevelt *
56,060
52,386
$134.95
1970
North West Territories +
3,106
2,500
$149.95
1970
North West Territories Deluxe +
500
500
$249.95
1970
North West Territories Donation Model +
10
10
$1,000.00
1970
Cowboy
28,904
27,549
$125.00
1970
Cowboy Hall of Fame Presentation
300
300
$1,000.00
1970
Lone Star
55,259
38,385
$140.00
1971
NRA Musket & Rifle
58,927
44,
$149.95
1972
Yellow Boy (E) +
5,500
4,903
$149.95
1973
R.C.M.P +
10,442
9,500
$189.95
1973
R.C.M .P- Members Model +
5,100
4,850
$189.95
1973
R.C.M.P Presentation Model +
10
10
Presentation
1973
M .P.X +
32
32
$78.00
1974
Texas Ranger
4,850
4,850
$134.95
1974
Texas Ranger Presentation
150
150
$1,000.00
1974
Apache +
10,200
8,600
$149.95
1975
Klondike Gold Rush +
10,500
10,500
$239.95
1975
Klondike Gold Rush Dawson City Issue +
25
25
Presentation
1975
Klondike Gold Rush Presentation +
15
15
Presentation
1975
Comanche +
11,511
11,500
$229.95
1976
U. S. Bicentennial
19,999
19,999
$325.00
1976
Sioux +
2,000
10,000
$279.95
1976
Little Big Horn +
11,350
11,000
$229.95
1977
Wells Fargo
19,999
19,999
$350.00
1977
Cheyenne 44/40 +
13,000
11,225
$300.00
1977
Cheyenne 22 +
8,221
5,000
$319.95
1977
Legendary Lawman
30,858
19,999
$375.00
1977
Limited Edition I
15,000
15,000
$1,500.00
1978
Cherokee 30/30 +
9,000
9,000
$384.95
1978
Cherokee 22 +
3,950
3,950
$384.95
1978
Antlered Game
19,999
19,999
$375.00
1978
One of One Thousand +
250
250
$5,000.00
1979
Limited Edition II
1,500
1,500
$1,750.00
1979
Legendary Frontiersman
19,999
19,999
$425.00
1979
Bat Masterson
8,000
8,000
$650.00
1979
Matched Set of One Thousand
1,000
1,000
$3,000.00
1980
Oliver F. Winchester
19,999
19,999
$520.00
1980
Alberta Diamond Jubilee +
2,700
2,700
$650.00
1980
Alberta Diamond Jubilee Deluxe +
300
300
$1,900.00
1980
Saskatchewan Diamond Jubilee +
2,700
2,700
$695.00
1980
Saskatchewan Diamond Jubilee Deluxe +
300
300
$1,995.00
1981
Calgary Stampede +
1,000
1,000
$2,200.00
1981
Canadian Pacific Centennial +
2,700
2,700
$800.00
1981
Canadian Pacific – Employee +
2,000
2,000
$800.00
1981
Canadian Pacific Presentation +
300
300
$2,200.00
1981
U.S. Border Patrol
1,000
1,000
$1,195.00
1981
U.S. Border Patrol – Member Model
800
800
$695.00
1981
John Wayne Standard
49,000
49,000
$650.00
1981
John Wayne Canadian
1,000
1,000
$995.00
1981
John Wayne Duke
1,000
1,000
$2,250.00
1981
John Wayne Matched Set
300
300
$12,000.00
1982
Great Western Artist I
999
999
$2,500.00
1982
Oklahoma Diamond Jubilee
1,000
1,000
$2,200.00
1982
American Bald Eagle Silver Model
2,800
2,800
$895.00
1982
American Bald Eagle Gold Model
200
200
$2,950.00
1982
Annie Oakley
6,000
6,000
$600.00
1983
Great Western Artist II
999
999
$2,500.00
1983
Chief Crazy Horse
19,999
19,999
$550.00
1984
Winchester-Colt Set
4,440
3,250
$3,900.00
1985
Boy Scout
15,000
15,000
$625.00
1985
Eagle Scout
1,000
1,000
$2,250.00
1986
Texas Sesquicentennial Carbine
15,000
15,000
$695.00
1986
Texas Sesquicentennial Rifle
1,500
1,500
$2,995.00
1986
Texas Sesquicentennial Set
150
150
$7,995.00
1986
Statue of Liberty
100
50
$6,500.00
1986
1 of 1000 – European Second Edition
250
64
$6,000.00
1986
120th Anniversary
1,000
1,000
$995.00
1986
Ducks Unlimited
2,800
2,800
$700.00
1986
Ducks Unlimited – Gold
300
300
$1,500.00
1986
Ducks Unlimited – Canada
1,400
1,200
$700.00
1987
U.S. Constitution
50
17
$12,000.00
1989
Italy Anagni 1 of 25
25
N/A
N/A
1990
Wyoming Centennial
999
500
$895.00
1991
125th Anniversary
125
61
$4,995.00
1991
125th Anniversary European Edition
125
N/A
N/A
1992
Ontario Conservation Officer Centennial
400
400
$1,195.00
1992
Kentucky Bicentennial
500
500
$995.00
1992
Arapaho
500
500
$895.00
1993
Nez Perce
600
600
$950.00
1993
Ducks Unlimited-Canada 1993
500
500
$750.00
1994
Limited Edition Centennial
12,000
12,000
$811.00
1994
Limited Edition Centennial – High Grade
3,000
3,000
$1,272.00
1994
Limited Edition Centennial – Custom
94
94
$4,684.00
1994
Browning Tribute 1 of 100
100
N/A
N/A
1995
Florida Sesquicentennial
360
360
$1,195.00
1996
Wild Bill Hickok
350
350
$1,195.00
1997
Earp Brothers
250
250
$1,195.00
1997
25th Anniversary 9422
2,500
2,500
$606.00
1997
25th Anniversary 9422 – High Grade
250
250
$1,348.00
1998
IAM
3,000
3,000
$375.00
1998
Shoshone
250
250
$1,195.00
1998
Wal-Mart Wildlife Conservation
2,000
2,000
$560.00
1998
Klondike Centennial
450
450
$550.00
1998
Klondike Centennial-Deluxe
100
100
$1,000.00
2002
Heritage 1 of 1000-High Grade
1,000
1,000
$1,883.00
2002
Heritage 1 of 100-Custom
100
100
$5,200.00
2003
New Generation – 1st Edition
100
100
$2,995.00
2003
New Generation – 2nd Edition
110
110
$3,271.00
2005
9422 Custom Tribute 1 of 222
222
222
$2,313.00
2005
9422 High Grade Tribute (22 WMR)
$1,050.00
2005
9422 High Grade Tribute (22 LR)
$1,078.00
2005
9422 High Grade Legacy Tribute (22 WMR)
$1,139.00
2005
9422 High Grade Legacy Tribute (22 LR)
$1,085.00
2005
9422 Special Edition Tribute (22 WMR)
$545.00
2005
9422 Special Edition Tribute (22 LR)
$516.00
2005
9422 Special Edition Legacy Tribute (22 WMR)
$606.00
2005
9422 Special Edition Legacy Tribute (22 LR)
$551.00
2005
John M. Browning (30-30)
150
150
$1,107.00
2005
John M. Browning (44 Mag.)
150
150
$1,107.00
2005
John M. Browning (45 Colt)
150
150
$1,107.00
Special Issues
1983
Dodge Marksman (Central Region)
1,000
1,000
$250.00
1983
Dodge Marksman (Southeast Region)
3,565
3,565
$250.00
1983
Dodge Marksman (Corporate)
516
516
$250.00
1984
Dodge Marksman (Western Region)
775
775
$250.00
1984
Captain James Cook
100
100
$995.00
1984
Lander, Wyoming
400
400
$495.00
1985
Mark Twain
150
150
$475.00
1986
WACA Winchester/Colt
100
22
$2,695.00
1987
Coca-Cola
2,500
1,574
N/A
1987
WACA Trapper 45 Colt
250
250
$329.00
1988
U.S. Marshals Bicentennial
500
500
$1,995.00
1992
WACA 7/30 Waters
250
250
$695.00
1994
WACA Limited Edition Centennial
250
250
$690.00
1998
WACA 9422
500
500
$695.00
2001
Wild Turkey Federation 9422
1,900
N/A
Auction
2002
Friends of NRA
N/A
Auction
2003
Wild Turkey Federation 410
2,200
N/A
Auction
2006
Friends of NRA
1,200
1,050
Auction
2006
Rocky Mountain Elk Foundation
400
400
Auction
Private Issues
1981
WACA 30-30 Trapper
130
130
$250.00
1985
Roy Rogers, Jr.
3,000
$395.00
1985
Louis Riel
900
900
$749.00
1985
Louis Riel – Deluxe
100
100
$1,749.00
1990
Ties That Bind
14
$1,800.00
1992
Larry Bird
100
100
$2,995.00
American Indian Tribute
300
300
N/A
Great American Buffalo
N/A
N/A
N/A
Custer's Last Stand
300
300
N/A
1994
Limited Edition Centennial – Gold
50
50
1997
First Swiss American
300
300
(E)