Topic RSS


Winchester Model 56/57 Research Survey
October 15, 2019
3:29 am

Kingston, WA
Forum Posts: 9632
Member Since:
April 15, 2005
Offline
Colsuper said
A Model 56 selling at  a local auction in Kansas City November 3, 2019.  

Lot 28: Winchester Model 56 Bolt Action .22 LR, Scarce Model, Mfd in 1930, Ser # 17602

If additional information is needed, I  will obtain at the auction.  

Kevin  
Hello Kevin,
Can you post the auction link so that we can take a look at any available pictures of the rifle?
Bert
WACA 6571L, Historian & Board of Director Member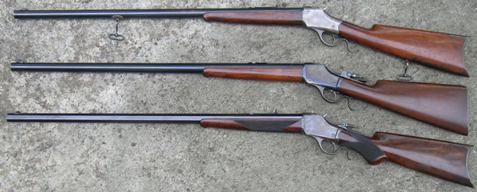 November 28, 2019
7:14 pm

Sportin life
JWA said
For the last 5 years I have been compiling a survey on the Model 56 and 57 .22 rimfire rifles.   Currently I have about 1.5% of the total production of both models logged and some interesting trends and anomalies have appeared in the data but I would like to increase the sampling to reinforce the statistics.  For those of you that have a 56 Sporter or 57 Target and are willing to share your information I would be grateful.

The survey currently tracks;

 

 - Serial number (complete)

 - Barrel date (2 digits located on the underside of the barrel near the receiver)

 - Caliber (.22 Short or .22 Long Rifle)

 - Factory upgrades (sights, stock checkering or scope)

 - Non-factory upgrades/modifications (re-finishing wood or metal, aftermarket scopes, replacement parts) 

 

Thanks to everyone that has already participated.

Best Regards,  
Not sure if you're still researching, but a friend gave me a Model 57 she found in her attic after her husband died. It is missing the bolt assembly (which I am desperately trying to replace; please let me know if you know where I can get one). It is in otherwise very good condition mechanically and the bluing is 95+%. Only flaw is the stock, which has some of the finish peeled off near the butt, and a small crack on the left side below the receiver. Serial number 25631; it is Long Rifle.
Hope this helps, and best of luck.
November 30, 2019
3:49 am

SO. Oregon
Forum Posts: 522
Member Since:
June 5, 2015
Offline
December 19, 2019
6:41 pm
Forum Posts: 3
Member Since:
December 9, 2019
Offline
Recently purchased a Winchester Model 57 serial # 16984 manufacture date of 1929. Nice old rifle and in decent shape. Was missing a few parts, like the Aperture sight and Adjusting arm. Looked for several days and found out the Lyman sight  was Number 42W. And actually found one on ebay that was complete and in amazing condition. Check that off the list. Have disassembled and scrubbed it clean. So far all is good and the bore looks very decent for a 90 year old gun. The stock has 90 years of nicks, bumps, and bruises, but nothing that Mr. Birchwood/Casey and I can't handle. My problem is in the Front Barrel Band. The original band is there (Patent Date and all) but it's held in place by a small threaded screw and nut. Can't imagine that is OEM....I see in the Parts Catalogs that it shows a 1. Front Barrel Band 2. Front Band Bow 3. Front Band Stop Pin (There is a stop pin in the stock, so I'm assuming that what they are referring to), so I'm not sure of what i am missing or what I need. I am Hoping that someone can offer me a few pictures of their Mod 57 Front Barrel Band Assembly....and Maybe a suggestion as to where the parts can be purchased. Poster morsece< Great Pictures....

So Glad I found this Forum....or Should I say Glad the forum found me.
John O
December 19, 2019
7:23 pm
Forum Posts: 3
Member Since:
December 9, 2019
Offline
Serial #: 16984
Barrel Date: 28
Caliber: 22 Long Rifle
Factory Upgrades: Standard Front Sight, Flip Up Rear Sight, Lyman 42W Peep Sight. Steel Butt Plate
Exposed steel has that Reddish Brown Aged Patina, under the wood is decent Blue Steel. Original 5rd Magazine
Purchased $250.00 at the Ogden Kansas gun Show on Dec 7 2019
Regards Back,
John O 
PS: Does anyone know where an Expanded Parts Diagram/Picture for the Win 57 may be purchased of found?

December 21, 2019
4:52 am

Kingston, WA
Forum Posts: 9632
Member Since:
April 15, 2005
Offline
December 21, 2019
6:03 pm
Forum Posts: 3
Member Since:
December 9, 2019
Offline
December 21, 2019
6:11 pm
Wyoming - Gods Country
Forum Posts: 889
Member Since:
January 26, 2011

Online
December 22, 2019
3:41 am

Location: 32000' +
Forum Posts: 1239
Member Since:
July 17, 2012
Offline
joeom@cox.net said
Thank You Bert H. What is the appropriate way to contact Jeff A. ? 

Jeff, if you have an expanded parts diagram of a Win 52, I would be very interested of receiving/buying one. 

John  
Hi John,
I have an exploded parts diagram of the Model 52, no worries, but I suspect you are looking for a diagram for the Model 57?
To answer your other questions, yes, the front barrel band is retained by a simple cross pin driven through the stock forend.  Since it is a simple pin you can make a replacement FAR easier than finding an original.
Let me know if you need the dimensions and I will be happy to help.  I am finally back CONUS for the Christmas holidays so you can PM or email me through the WACA website.
Happy Holidays to all!
Best Regards,
WACA Member #6284 - Specializing in Pre-64 Winchester .22 Rimfire
December 22, 2019
6:25 pm

JohnO
December 23, 2019
3:03 pm

JohnO
Milsurp Garage said
Hi.  I would like to add my Model 57 to the database.

 

Serial No. - 10918

Barrel Date - 27

.22 Long Rifle

Steel butt plate

Missing Lyman sight

 

I have a YouTube channel where I have this specific gun featured if you want to have a look...........plenty of other Winchester .22's posted up there as well.  

 

Thanks!  
Hello Milsurp Garage...enjoyed your video, but I need your help. The Win 57 I recently purchased is a pretty cool old gun, but it is missing the sling loop and the attaching assembly that would go to the front barrel band (which I have). The picture i see in you video at 8:53 shows the Band-Sling Loop-Nut? assemble, but I could use a better picture. It's looking like you are my last hope, Because I cannot find an expanded parts picture anywhere. Is there a way that I can contact you or have you email me some close up pictures? Help! John O joeom@cox.net
January 13, 2020
4:10 am
Canada
Forum Posts: 17
Member Since:
April 9, 2012
Offline
---
Forum Stats:
Groups: 1
Forums: 16
Topics: 6833
Posts: 55412
Member Stats:
Guest Posters: 929
Members: 8919
Moderators: 5
Admins: 3