Topic RSS


1894 rifle for Bert's survey
August 22, 2019
12:47 am

Kingston, WA
Forum Posts: 9490
Member Since:
April 15, 2005
Offline
Mlawrenceconstruction@gmail.com said
I think you are correct on the magazine, it is 7 1/4" from the end of the barrel to the magazine. for #585417

The 30 wfc on 470371 is at the 12 o'clock position.  I believe the barrel is earlier than the rifle due to that and the lack of proof stamp at the 12 o'clock pos.  Looks to have been that way for a while based on finish wear which looks as it should but who knows.

I will get pics.

857288 is gum wood 

585417 is hard to tell the wood is so dark (looks black from across the room) Im pretty sure its walnut but Ill have to pull the butt plate to confirm.  
It apears that it is a replacement barrel (from an older Model 1894).  All Sporting Rifles were stocked with walnut, whereas the Carbines were stocked with gumwood from the early 1900s through the mid 1920s.
Bert
WACA 6571L, Historian & Board of Director Member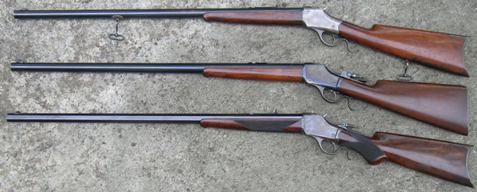 September 10, 2019
2:23 am
Forum Posts: 103
Member Since:
May 26, 2017
Offline
September 11, 2019
3:08 pm
Forum Posts: 18
Member Since:
December 28, 2018
Offline
September 12, 2019
2:57 am

Kingston, WA
Forum Posts: 9490
Member Since:
April 15, 2005
Offline
dmmbird@comcast.net said
Hi,

I have a Model 1894 chambered in 32-40. The Serial number is 3259. Is this information you are looking for.

Interesting note, this serial matches my Model 56, what are the chances.

Thank you,

Daniel  
Is your Model 1894 a Sporting Rifle, or a Saddle Ring Carbine?  If it is a Rifle, does it have an octagon barrel, or a round barrel?  Magazine tube length?  If you can, please send me pictures of it.
Bert - Win1885@msn.com
WACA 6571L, Historian & Board of Director Member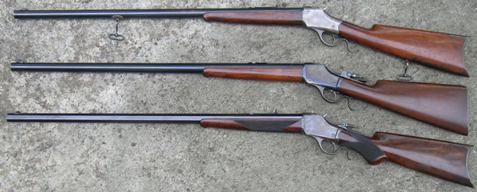 September 12, 2019
3:32 pm
Forum Posts: 18
Member Since:
December 28, 2018
Offline
Hi Bert,
Here is a picture of my rifle:
Type:   Rifle
Caliber:  32-40
Barrel:   Octagon
Barrel length:  26", Trigger: Plain
I have a Cody Letter -
Serial Number applied on February 25, 895
Received in warehouse on March 23, 1895
Shipped from warehouse on April 04, 1896, Order number 8736
I hope this helps,
Thank You,
Daniel
September 12, 2019
3:38 pm
Forum Posts: 18
Member Since:
December 28, 2018
Offline
September 13, 2019
12:07 am
Forum Posts: 635
Member Since:
September 22, 2011
Offline
September 13, 2019
2:05 am

Kingston, WA
Forum Posts: 9490
Member Since:
April 15, 2005
Offline
September 14, 2019
3:24 am
Forum Posts: 18
Member Since:
December 28, 2018
Offline
October 9, 2019
2:51 am
Forum Posts: 103
Member Since:
May 26, 2017
Offline
---
Forum Stats:
Groups: 1
Forums: 16
Topics: 6632
Posts: 53438
Member Stats:
Guest Posters: 890
Members: 8750
Moderators: 4
Admins: 3