Topic RSS


Winter 2021
January 14, 2021
4:07 pm
Forum Posts: 1701
Member Since:
May 23, 2009
Offline
Another great magazine with stellar articles! Kudos to the WACA staff that make the magazine so great and continual encouragement for those that submit articles! I thoroughly enjoyed the Winchester Case Inserts–Shipping Crate Advertising article and the 1885 article, among others.
Bert
How long till you get your 85 book out? I had no idea they chambered the 85 in .22 BBC. Surely they were used for target shooting only. I couldn't imagine trying to take game with that caliber.
Sincerely,
Maverick
WACA #8783 - Checkout my Reloading Tool Survey!
https://winchestercollector.org/forum/winchester-research-surveys/winchester-reloading-tool-survey/
January 14, 2021
5:19 pm

Kingston, WA
Forum Posts: 11147
Member Since:
April 15, 2005

Online
Brady,
Thanks for the compliments on the magazine articles.
One of the 22 BBC Single Shot rifles letters as being shipped to the "Porter Shooting Gallery".  
The vast array of cartridges that were available in the Single Shot rifles has long fascinated me!
Bert
WACA 6571L, Historian & Board of Director Member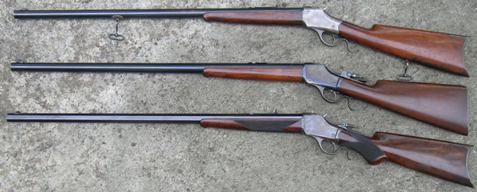 January 15, 2021
1:52 pm

Forum Posts: 1113
Member Since:
December 30, 2011
Offline
Thanks for the compliments on the magazine Brady.  We're glad that you like it!
February 23, 2021
5:26 pm
Northern edge of the D/FW Metromess
Forum Posts: 2909
Member Since:
November 7, 2015
Offline
Finally got a chance to read the latest edition. Great article on the Single Shot, Bert! Cleared up several misconceptions and pointed out quite a few things I hadn't noticed. I'll never understand the "why" of all those chamberings but thanks to the article I now have a working knowledge (or at least a good reference document) of "what" and "when". 
Mike
Life Member TSRA, Endowment Member NRA
BBHC Member, TGCA Member
Smokeless powder is a passing fad! -Steve Garbe
I hate rude behavior in a man. I won't tolerate it. -Woodrow F. Call, Lonesome Dove
Some of my favorite recipes start out with a handful of depleted counterbalance devices.-TXGunNut
Presbyopia be damned, I'm going to shoot this thing! -TXGunNut
February 23, 2021
6:48 pm

Oregon
Forum Posts: 682
Member Since:
September 29, 1993
Offline
February 27, 2021
1:44 am
Northern edge of the D/FW Metromess
Forum Posts: 2909
Member Since:
November 7, 2015
Offline
Rick Hill said
Heartily concur with the above comments re outstanding effort/edition of the "Collector".  Great work by all involved.

Thanks-  
I must admit I pace myself, Rick. I read the Goles' article about carton inserts today. Who would have thought a handful of colorful bits of cardboard could be so interesting? 
Mike
Life Member TSRA, Endowment Member NRA
BBHC Member, TGCA Member
Smokeless powder is a passing fad! -Steve Garbe
I hate rude behavior in a man. I won't tolerate it. -Woodrow F. Call, Lonesome Dove
Some of my favorite recipes start out with a handful of depleted counterbalance devices.-TXGunNut
Presbyopia be damned, I'm going to shoot this thing! -TXGunNut
---
Forum Stats:
Groups: 1
Forums: 16
Topics: 8364
Posts: 71401
Member Stats:
Guest Posters: 1133
Members: 10029
Moderators: 4
Admins: 3