Topic RSS


1912 12 ga year made question
October 22, 2020
10:27 pm

Peter Heesakker
I have an old model 1912 12ga pump shotgun. It's clear that 1912 was the first year of production of the model 1912 and that only 16 ga guns were made that year. 
What is not clear to me is the year when the 12 ga and 20 ga were first produced. Some sources say 1913 and others say 1914. My old model has SN 79648 (both) meaning it was produced during the end of 1914 I believe. 
Is there some definite information to indicate the year when the 12 ga was first produced? Thank you anyone who can clear this up for me. 
PH
October 22, 2020
11:23 pm

Kingston, WA
Forum Posts: 11815
Member Since:
April 15, 2005
Offline
Pete,
You have your information mixed-up.  Specifically, when Winchester first introduced the Model 1912 (S/N 1 was manufactured on August 12, 1912), it was available in the 20-gauge only.  It was not until early 1913 that the 16-gauge was offered, and the 12-gauge followed it a few months later.  Many people mistakenly believe that 1914 was the introduction year for both the 16-ga and 12-ga, but that is not accurate.  I believe the confusion about this topic is related to the fact that Winchester first listed the 16-ga and 12-ga in the January 1914 catalog (No. 79).  The preceding catalog (No. 78) issued in January 1913 only listed the 20-ga.  Actual production of the 16-ga guns began very shortly after the January 1913 catalog was printed & distributed.
Your Model 12 (S/N 79648) was manufactured in May, 1914, well before the end of the year.
Bert – WACA Historian
WACA 6571L, Historian & Board of Director Member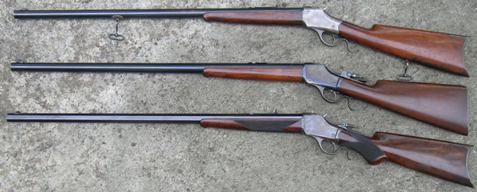 October 23, 2020
11:23 pm

Peter Heesakker
May 28, 2021
4:20 pm
Forum Posts: 10
Member Since:
March 17, 2021
Offline
May 28, 2021
4:30 pm

Kingston, WA
Forum Posts: 11815
Member Since:
April 15, 2005
Offline
---
Forum Stats:
Groups: 1
Forums: 16
Topics: 9131
Posts: 78667
Member Stats:
Guest Posters: 1230
Members: 10604
Moderators: 4
Admins: 3