Topic RSS


1897 Front sight Bead
January 5, 2021
1:58 am

Melbourne Australia
Forum Posts: 96
Member Since:
July 14, 2016
Offline
In 1996, after the Port Arthur massacre in Tasmania the Firearms Act here is Australia was changed. Drastically. I was 11 at the time so id did not affect me then, but it does now.
Automatics, semi autos, pump action shotguns were banned. There was a nationwide government buyback. Many firearms were subsequently destroyed, including some with historical significance that were not on the banned list. Storage requirements such safes bolted down, alarm systems installed also came into affect.
A few years later we had another shooting at a university here in Victoria. This also led to another knee jerk reaction by the government to ban and highly restrict handguns higher than .38 cal.
There are exemptions to own some of the banned firearms such as collectors licences, farmers for pest control, security requirements ect.
"how do people manage to hold onto them"   this would depend on which state you are in and what licence you hold. I believe under most collectors licences, a 1897 would have to be made 'permanently inoperable'. This destroys the gun as you can imagine – welded action drilled and welded chamber ect. .
Overall, IMHO, some of the changes were for the better, some also for the worse and were very unfair for the vast majority of collectors, shooters and hunters alike.
I am sure some of the other Aussies on here that are a fair bit older than me, can shed a lot more light on how bad things were in 1996.
Chris (current LEO, shooter, hunter and collector).
A man can never have too many WINCHESTERS...
January 5, 2021
4:28 pm
Northwestern Ontario
Forum Posts: 285
Member Since:
December 14, 2009
Offline
Aussie Chris, Thanks for the information. We are not that badly off in Canada…..yet. The government recently banned the sale and use of some 1500 models of what the government terms as "assault weapons". Most are simply variants of semi auto furearms that resemble an AR15 which has been prohibited since the 1990's and other fully auto firearms. My feeling is our Prime Minister is eyeing the gun control measures of Australian and New Zealand to confiscate firearms here. We do have a firearms crime problem on Canada almost entirely caused by illegal handguns which are smuggled in from the USA and used by drug dealers and hoodlums that are caught and released with almost no penalty. 
Legal law abiding gun owners who follow all of the licensing and storage rules are a soft and easy targets to blame for the mayhem rather than doing what is necessary to prevent and discourage criminals and the occasional nut case from obtaining guns. We are however a nation with a long tradition of hunter subsistance, sport hunting and shooting sports so it we collectively are not going to give in easily to these unnecessary measures although public opinion from larhely urban dwellers seems to be in favour of gun control.
January 17, 2021
4:43 am

AH
January 17, 2021
5:17 am

Kingston, WA
Forum Posts: 11776
Member Since:
April 15, 2005
Offline
AH said
Came across a local 1897 riot in average condition this weekend. Did some riot guns have shorter than 20in barrels? It is stamped Cyl but the barrel is about 19 3/4. I don't have much info other than that.  
No, they did not.  The minimum barrel length for the Model 1897 Riot Gun was 20-inchs.  There were a few made with longer barrels (e.g. 21 and 22 inches), but they are rare.
WACA 6571L, Historian & Board of Director Member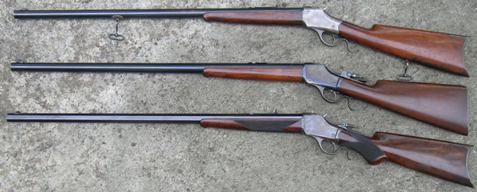 January 17, 2021
5:32 pm
Forum Posts: 2727
Member Since:
March 31, 2009
Offline
---
Forum Stats:
Groups: 1
Forums: 16
Topics: 9057
Posts: 78040
Member Stats:
Guest Posters: 1216
Members: 10562
Moderators: 4
Admins: 3