Texas
Forum Posts: 104
Member Since:
August 5, 2013

Offline
In RIA's auction on May 6, Lot 2042 was for a Model 92 carbine with an octagon bbl that was accompanied by a letter from Madis validating its authenticity.  The letter was undated.  Has any information arisen since Madis's time that would cast doubt on the carbine's authenticity?
I believe hammer price was $5,500, so the buyer's premium would be an extra $825 at the 15% rate.  I didn't buy the carbine.  If it's real, seems like a very rare and neat collectible.
https://www.rockislandauction.com/detail/70/2042/special-order-winchester-model-92-carbine-with-octagon-barrel#detail
Greg
I've heard of these carbines in the past.  I believe the story was that MGM studios had a number of these carbines modified by outside gunsmiths for movie props.  The mail-order proof (oval P) on the barrel is consistent with work done outside of the Winchester factory.  In this case, I believe the Madis letter is incorrect as to the origins of this carbine.  Anyone else have any better info?
Greg,
In my opinion, that is not the original barrel on that SRC. If some had wanted a 20-inch octagon barreled 1892 with a saddle ring, Winchester would have built a traditional "short" rifle and added the saddle ring. It makes no sense at to use a traditional magazine tube retaining ring, and at the same time, have a barrel band. Further, altering a Carbine forend stock to fit up with the octagon barrel is another "makes no sense" item. While almost anything was possible, I do not believe that this gun fits into that category.
Bert
WACA 6571L, Historian & Board of Director Member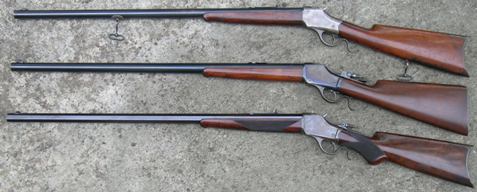 I have an identical 92 SRC that was purchased in about 1939 at Hudson's Sporting Goods in NYC by my dad. But the letter with the RIA auction gun is incorrect in many details. It is now known that these 92 carbines were in fact assembled at Winchester from parts on hand for Paramount Movie studios for use in their films. I believe the new research was done by Leroy Mertz? I have personally held and examined 3 of these carbines, all identical and all in the same serial range. Winchester also made other odd models at the same time, some without any forearm at all to resemble an 1866. I have records of auction sales of these over the years and that is about the average price seen. These are a little known and not often seen variation of a factory made Winchester Carbine.
Here is an older post about one of these. The content won't open up for me, maybe Bert can open it?

Oregon
Forum Posts: 723
Member Since:
September 29, 1993

Offline

West of Fresno, CA
Forum Posts: 179
Member Since:
April 26, 2015

Offline

http://jamesdjulia.com/item/2098-369/
Here's another one from 2014!  I'm surprised studios didn't stamp their names somewhere on these after going through the trouble of having them made.  BK
Here's another one listed by everyone's favorite seller on Gunbroker!

New Mexico
Forum Posts: 1188
Member Since:
December 1, 2012

Offline
deerhunter said
Here's another one listed by everyone's favorite seller on Gunbroker!
Considering the source, I didn't bother to read the description.
"This is the West, sir. When the legend becomes fact, print the legend." 
Forum Posts: 596
Member Since:
November 2, 2009

Offline

I have seen several of these "carbines" in years past. In fact, there were four of them at the Cody show many years ago, before we moved to the Riley Arena.  None of those had any prop house markings on them.  The condition of the one pictured in this original post, appears to be in considerably better condition.  A very unique '92 with cool movie company provenance.
Forum Posts: 117
Member Since:
June 11, 2014

Offline
Yes, all of the guns I have observed in person and in pictures have the open dovetail on the barrel ahead of the forearm. This is because Winchester clearly used 24″ octagon rifle barrels that were in stock. Winchester then cut them down to 20″ and used them as is with the open dovetail. This variation is actually settled fact now for some years. Not really up for discussion of originality except by folks seeing one for the first time and don't know the history.  And their doubts are very understandable.  But with so many identical guns known and the research done,  they are now accepted as a desirable factory made variation which they are.
Forum Posts: 2054
Member Since:
May 23, 2009

Offline
I think the Madis letter puts things in the right perspective, at least it does for me, others may disagree. Nice looking 92, and wouldn't mind having one myself.
Sincerely,
Maverick
WACA #8783 - Checkout my Reloading Tool Survey!
https://winchestercollector.org/forum/winchester-research-surveys/winchester-reloading-tool-survey/
Most Users Ever Online:
778
Currently Browsing this Page:
1
Guest(s)
Forum Stats:
Groups: 1
Forums: 16
Topics: 10903
Posts: 94052
Member Stats:
Guest Posters: 1513
Members: 11886
Moderators: 3
Admins: 3
©
Simple:Press
—