Peter,
When a company or agency purchases firearms, it almost always indicates that they have a guard force. If the "Railway Express Agency" actually purchased the rifle in question, its purpose would have been to arm one of their paid guards.
Bert
WACA 6571L, Historian & Board of Director Member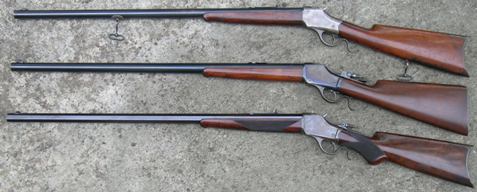 Forum Posts: 318
Member Since:
September 9, 2011

Offline
Aylmer, Quebec, Canada
Forum Posts: 898
Member Since:
March 23, 2007

Offline
P.Muerrle said
The seller of that M71 is not the one who had the paper boxes made up and faked the gun. It was a guy from the East Coast who recently passed away. He is the guy who put up NIB M61, 62, 63, 71, 42, and12s. I wouldn't touch a NIB of any of these models with a ten foot pole. He flooded the market with them and phony manufacturing orders too. Oh I almost forgot, M70s also.
Pauline,
Seen this seller selling a NIB model 64 Deer Rifle (Deluxe). Can that model be added to your list as well?
Sickening.
Matt
Forum Posts: 433
Member Since:
March 6, 2011

Offline
oakridge said
Bert, I don't think there was any mention of purchaser. It was supposedly shipped via Railway Express.
My mistake, and you are correct. I made an incorrect assumption that it was purchased by that agency. I very much doubt that it was shipped via the "Railway Express Agency, Inc" though.
Bert
WACA 6571L, Historian & Board of Director Member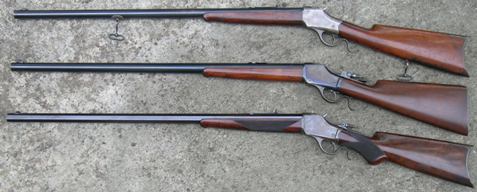 Forum Posts: 1179
Member Since:
December 30, 2011

Offline
Does anyone know when Winchester started using the font that is on the top of the crate in red: [color=red:6df1779661]WINCHESTER[/color:6df1779661]?
I've been looking through some of my ammo boxes and the Giles and Shuey book and it looks like 1911 on the ammo boxes, unless I'm missing something. Wondering when it first showed up in general.
Brad

Forum Posts: 422
Member Since:
November 9, 2008

Offline
JWM94 said
Comments on this boxed 61, please:

http://www.gunbroker.com/Auction/ViewItem.aspx?Item=333040170
My comments are likely more critical than some others but I am personally very picky about "NIB" rifles. My theory is that boxed guns and boxes should be as close to "as new" condition as possible when you pay the premium for a NIB gun. To me (maybe not others) a 95% rifle in a heavily worn box with missing or non-original tags and papers is not desirable unless it's priced right. Most of them are priced as though everything is "as new."
This M61 is a good example. It may be original–I don't see any red flags at first glance. But it surely is not "as new." The box has several tears and shows a lot of wear. The spacer is heavily oil stained. The wood shows a bunch of dings (the seller says picture 18 does not show a scratch but there it is big as life). There's a ding on the receiver.
I know that M61 octagon barrel 22 short rifles are valuable but if I paid $5000 or more for this one I'd want to feel that the rifle alone was worth that much and there was no added premium for the box. I really don't want to pay any premium for a 90-95% rifle that was used and put back into it's worn and torn box.
Forum Posts: 148
Member Since:
August 8, 2012

Offline
Most Users Ever Online:
778
Currently Browsing this Page:
1
Guest(s)
Forum Stats:
Groups: 1
Forums: 16
Topics: 12133
Posts: 104953
Member Stats:
Guest Posters: 1682
Members: 12663
Moderators: 4
Admins: 3
©
Simple:Press
—