Northern edge of the D/FW Metromess
Forum Posts: 4293
Member Since:
November 7, 2015

Offline
Chuck said
I think the 45-90 is like an express.  Lighter bullet at faster speeds. 

  
I agree even though I don't load it as one for my Sharps. I wonder if it was loaded as a standard cartridge in addition to the express loading back in the day. I think, then as now, it would have made an exceptional long range cartridge. I suppose if we could determine the twist rate(s) for period single shots we may have an answer, but it's past my bedtime.
Mike
Life Member TSRA, Endowment Member NRA
BBHC Member, TGCA Member
Smokeless powder is a passing fad! -Steve Garbe
I hate rude behavior in a man. I won't tolerate it. -Woodrow F. Call, Lonesome Dove
Some of my favorite recipes start out with a handful of depleted counterbalance devices.-TXGunNut
Presbyopia be damned, I'm going to shoot this thing! -TXGunNut

Patrick buechel

Kingston, WA
Forum Posts: 13633
Member Since:
April 15, 2005

Offline
Patrick buechel said
When I purchased my winchester model 1886 50-110 express saddle ring carbine from Albert Buckingham he told me there where only around 250 of them made, I trust Albert as he was a lifelong Winchester man, and he was a go to guy for info on winchesters,,,

  
Albert underestimated the actual number that were manufactured.  I do not have my copy of John Madl's reference book handy, but he found considerably more than 250.
WACA 6571L, Historian & Board of Director Member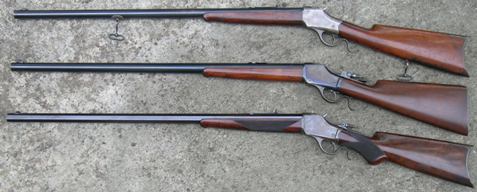 Most Users Ever Online:
778
Currently Browsing this Page:
1
Guest(s)
Forum Stats:
Groups: 1
Forums: 16
Topics: 11430
Posts: 99153
Member Stats:
Guest Posters: 1579
Members: 12233
Moderators: 4
Admins: 3
©
Simple:Press
—