Topic RSS


Tips on Buying an old Winchester Rifle
May 4, 2020
4:01 pm
Forum Posts: 1032
Member Since:
June 4, 2017

Online
May 4, 2020
4:47 pm

Kingston, WA
Forum Posts: 11838
Member Since:
April 15, 2005
Offline
TR said
 Thank you Bert and Brad! What a straight and to the point article with pictures that are worth a thousand words. I hope you can do a part three. T/R  
From both of us, you are welcome.  I will put some thought into what could be discussed in part III.
Bert
WACA 6571L, Historian & Board of Director Member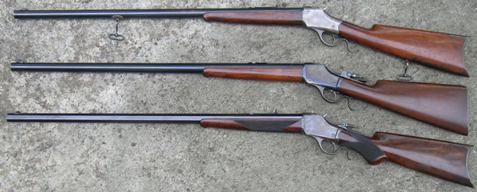 May 5, 2020
6:50 pm
Troutdale, OR
Forum Posts: 1177
Member Since:
June 26, 2013
Offline
May 5, 2020
10:13 pm

Kingston, WA
Forum Posts: 11838
Member Since:
April 15, 2005
Offline
May 14, 2020
3:13 pm

CANADA
Forum Posts: 94
Member Since:
September 22, 2019
Offline
Again,
Many thanks to both Bert and Brad for the enjoyable and instructive content in these articles – please keep this series going.
These finer points of what to look for when evaluating a piece are of tremendous value to all.
I've been a gun enthusiast for 50 years and I'm still learning – this stuff is great !
Dave
---
Forum Stats:
Groups: 1
Forums: 16
Topics: 9157
Posts: 78862
Member Stats:
Guest Posters: 1234
Members: 10623
Moderators: 4
Admins: 3