Topic RSS


Winchester Research Surveys
March 10, 2019
5:27 pm
Forum Posts: 442
Member Since:
January 19, 2017
Offline
I saw that forum and decided to ask my question here to avoid digression there. 
When people post information about their Winchester in any of the other forums here, do one or more of you automatically  add that information to surveys that are interest to you?  Example:  Someone like me posts in "Rifles" about the gun they just picked up, serial number, configuration etc.  Another guy/gal on here who keeps track of such things automatically adds the information to their survey.
Over the years I've posted pics and details about my Winchesters and would hope anyone who was interested and saw those posts would have recorded the information without me having to re-enter it all.  I have one 66, 3 86s and one 94.  I also have some Letters on guns I've sold.
I'd be happy to share information if it  hasn't already been dealt with.
March 10, 2019
5:37 pm

Kingston, WA
Forum Posts: 9977
Member Since:
April 15, 2005

Online
Huck,
In answer to your question, I will enter the information in my survey documents if it contains the requisite details. I usually ask for additional details before entering it. Most of my research surveys cover the models that cannot be lettered, so it is important to get the details (and pictures).
Bert
WACA 6571L, Historian & Board of Director Member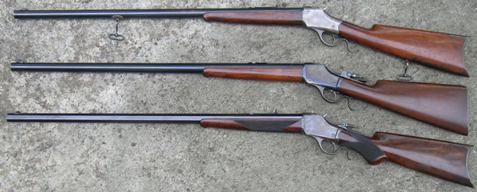 March 10, 2019
8:33 pm
Forum Posts: 442
Member Since:
January 19, 2017
Offline
---
Forum Stats:
Groups: 1
Forums: 16
Topics: 7284
Posts: 60272
Member Stats:
Guest Posters: 985
Members: 9268
Moderators: 5
Admins: 3