Topic RSS


Finally Joined...and looking for resources
September 15, 2019
5:17 pm
Forum Posts: 18
Member Since:
September 15, 2019
Offline
Hello Everyone, 
As I a long time lurker I finally joined.  I tend to keep a low profile, but it appears there are so many quality folks on here that I felt compelled to become a member.  I have a special fondness for Winchesters of all types, but I am still fairly young and with the cost of sports and school for my kids, my chances to fatten the collection are somewhat slim....but I still have a few gems.  And for some reason, the universe sends things my way at the right time.
I am mostly a shooter.  I send quite a few .348's down the range every year, dare I say more than most folks.  I love levers but that particular caliber has grown on me ever since I got my first one.  I have extensive data on my testing and casting, and I regularly hunt with a model 71.  So I tend to shoot most of my rifles with only a few reserved for safe status...but even those see daylight once a year just because.
Anyhow, I am need of more books.  I have a nice collection started but I would like to know what books are must have regarding model 70's?  I assume the RULE book is a must have.  I have what I need regarding single shots, levers, and 52's, but I now want to focus on model 70 rifles....pre 64 of course.
For example, I have a nearly mint early 1949 Target in .270 wcf.  I would love to know productions #'s on Targets and Bull guns in their calibers by year.  I love the targets and bulls and don't have any newer than 1950.  But how many of each caliber made is a question I want answered.  Is this type of information in the Rule book?  I know that bulls are 06 and h&h, but I have also heard of one-off bulls in other calibers.  I have yet to see one.  I am new to this model 70 arena, but based on what I have learned about levers, particularly 86 and 92 variations, I don't say never.
Anyhow, I look forward to posting here as time permits and thank you all for the information you share.  For a younger collector like me, still a noob of sorts, it is a treasure trove.
September 15, 2019
6:27 pm

Kingston, WA
Forum Posts: 9957
Member Since:
April 15, 2005
Offline
Welcome to the wonderful world of WACA! I have no doubt that you will get a lot of useful feedback in regards to your questions. I am particularly interested in learning more about your Model 71 rifles... do you mind sharing the information on them for the research survey I am conducting for them?
Bert
WACA 6571L, Historian & Board of Director Member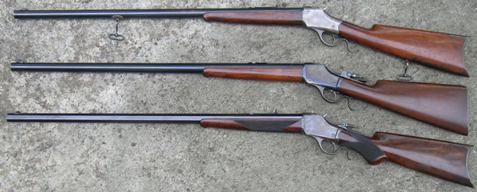 September 16, 2019
1:52 pm
Forum Posts: 18
Member Since:
September 15, 2019
Offline
Hi Bert,
Thanks for the welcome.  What type of information are you looking for?  Sorry if responses are slow, work has me very busy.  I will contribute what I can.  I am not an expert on the model 71 but am well aware of variations.  I am interested mostly in the refinement of the Golden Jubilee Action and how it actually functions in the real world.  The .348 is quite the cartridge in a lever, far more effective than the .33.  I have considerable experience shooting the 40-65, 45-70, 45-90, .33 and .348.  The 1895's never fit me right but I did go through a .405 phase.
I have also built some rifles around the M71 browning action for experiments as Wins are too valuable to me.  What I am after is that head size, so building an Alaskan like the .50 or .450 requires that bolt face...too much work to redo an 1886 for a variety of reasons.
My main shooting 71 is a post war deluxe rifle...I prefer the short tang with the longer comb for shooting longer strings.  I got it used and since then have about 2600 rds down range...model 71's are prone to heating up a bit and walking shots, but if velocity is kept down in the 1800-1900fps range accuracy lasts quite a bit longer.
I look forward to some learning on this site.  Thanks again!
---
Forum Stats:
Groups: 1
Forums: 16
Topics: 7275
Posts: 60133
Member Stats:
Guest Posters: 983
Members: 9255
Moderators: 5
Admins: 3