Topic RSS


Model 12 26 inch 12 gauge barrel assembly for sale
March 21, 2019
12:43 am
Forum Posts: 5
Member Since:
March 20, 2019
Offline
March 21, 2019
1:04 am

Kingston, WA
Forum Posts: 9409
Member Since:
April 15, 2005
Offline
March 21, 2019
1:50 am
Forum Posts: 5
Member Since:
March 20, 2019
Offline
Thank you Bert, I didn't realize i needed to post the whole serial number.
The whole number does have an L in front of it so I do not know what it is then. Perhaps you could shed some light on what I have then?
The serial number on the barrel is L041665. I can't seem to figure out how to attache pictures.
March 21, 2019
2:29 am

Kingston, WA
Forum Posts: 9409
Member Since:
April 15, 2005
Offline
Hmmm...  The serial number on the barrel assembly dates it as being manufactured in August/September 1944.  It should be stamped with a 2-digit year number on the bottom of the barrel near the take down extension.
Very early in the Model 1912 production, the early 6-digit serial numbers had what appeared to be an "L" leading digit, but it was simply a poor cut rendition of the "1" digit (my theory was a lazy die maker).  The same die(s) were previously used on the Model 1892, 1894, and 1897 receivers.  The attached pictures show a few Model 1897 shotguns with the "L" looking numeral "1" digit. It is entirely possible that some of the late WW II production Model 12 shotguns also used a poorly made serial number digit die... I simply have not seen very many of them in the early 1-million serial number range.
Bert
WACA 6571L, Historian & Board of Director Member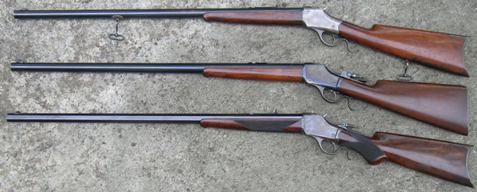 March 21, 2019
1:29 pm
Forum Posts: 5
Member Since:
March 20, 2019
Offline
March 24, 2019
10:48 pm

Kingston, WA
Forum Posts: 9409
Member Since:
April 15, 2005
Offline
April 10, 2019
10:37 pm
Forum Posts: 3
Member Since:
April 9, 2019
Offline
April 11, 2019
1:14 am
Forum Posts: 5
Member Since:
March 20, 2019
Offline
April 11, 2019
2:59 am
Forum Posts: 90
Member Since:
May 26, 2017
Offline
April 11, 2019
3:54 am
Forum Posts: 3
Member Since:
April 9, 2019
Offline
April 11, 2019
1:20 pm
Forum Posts: 5
Member Since:
March 20, 2019
Offline
---
Most Users Ever Online: 628
Currently Online: Big Larry, Randal McEvers
63 Guest(s)
Currently Browsing this Page:
1 Guest(s)
Forum Stats:
Groups: 1
Forums: 16
Topics: 6523
Posts: 52497
Member Stats:
Guest Posters: 874
Members: 8645
Moderators: 4
Admins: 3