Topic RSS


2 Winchester rifles for sale.
September 1, 2021
4:06 pm

Jerald M. Penwell
I have an 1894 carbine, SN 1197361, in 30WCF and made in 1940. It is in 95 to 96% original condition. It has "US" and the flaming bomb ordinance mark stamped on the upper front of the receiver and the ordinance mark stamped on top of the barrel about 1″ in front of the receiver. It has a side mounted peep sight made by Providence Tool Co. This is an extremely rare rifle and i am asking $4200 for it. I have more information on this if you contact me. I also have an 1892 rifle in 32-20 made in 1907, SN 393815 in excellent condition with the rare 3/4 length magazine tube (only 52 produced). I am asking $1600 for it. You may contact me at my email address or call me at 575-218-0156 or on facebook at Jerald Penwell. I am currently residing in Clovis, NM.
September 1, 2021
4:23 pm

Kingston, WA
Forum Posts: 11815
Member Since:
April 15, 2005
Offline
Jerald,
Your Model 94 Carbine with S/N 1197361 was not manufactured in the year 1940… it was actually manufactured in late 1938.  It is not "an extremely rare" rifle.  I originally surveyed it in late 2005 and at that time, it was not ordnance marked.  Somebody has intentionally stamped FAKE ordnance markings on it  sometime in the recent past, which significantly reduces the value of the gun. Furthermore, the side mounted peep sight is an aftermarket alteration that also negatively affects the value.  The true value of this fakely marked and altered Carbine is unlikely to exceed $500.
Bert
WACA 6571L, Historian & Board of Director Member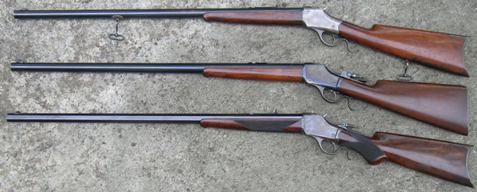 September 1, 2021
8:01 pm
NY
Forum Posts: 3201
Member Since:
November 1, 2013

Online
September 1, 2021
10:27 pm
Troutdale, OR
Forum Posts: 1175
Member Since:
June 26, 2013
Offline
September 1, 2021
10:31 pm
Troutdale, OR
Forum Posts: 1175
Member Since:
June 26, 2013
Offline
September 1, 2021
11:28 pm
NY
Forum Posts: 3201
Member Since:
November 1, 2013

Online
---
Forum Stats:
Groups: 1
Forums: 16
Topics: 9131
Posts: 78667
Member Stats:
Guest Posters: 1230
Members: 10604
Moderators: 4
Admins: 3