Topic RSS


the 98a bolt peep sight
January 25, 2014
6:57 am
Forum Posts: 17
Member Since:
August 27, 2013
Offline
my Winchester 71 made in 1936 is a standard rifle and original as far as I can tell. it has the 98a bolt peep sight. so far with limited shooting with some recent manufactured Winchester ammo and some of my reloads barnes 250 gr original bullet and rl 19 powder it seems to do ok. my question is why some folks do not like the sight preferring the lyman no.56w sight.bert I believe I read where you did not prefer the 098a just wondering why.john
April 13, 2014
7:24 pm
Forum Posts: 31
Member Since:
October 24, 2009
Offline
April 13, 2014
9:55 pm
Forum Posts: 92
Member Since:
March 23, 2007
Offline
I've heard it said that on some rifles with some play in the bolt that the accuracy can be affected due to minor variations in the sight alignment from shot to shot. I have both a model 64 in 219 Zipper and a model 65 in 218 Bee with the bolt peep. My rifles offer practical accuracy and do not seem to be adversely affected by the sight. They are sleek compared to the receiver mounted Lyman 56 and 66 series sights.
April 13, 2014
9:57 pm

Kingston, WA
Forum Posts: 11852
Member Since:
April 15, 2005
Offline
ehsa said
bert I believe I read where you did not prefer the 098a just wondering why.john
John,
I have no idea where you read that, or got that idea. I have no preference one way or the other for the Lyman No. 56W versus the No. 98A bolt-peep. Both sights provide the longer sight radius that I prefer over the barrel mounted rear sight.
Bert
WACA 6571L, Historian & Board of Director Member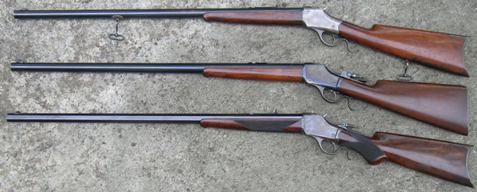 ---
Forum Stats:
Groups: 1
Forums: 16
Topics: 9182
Posts: 79063
Member Stats:
Guest Posters: 1238
Members: 10632
Moderators: 4
Admins: 3