Topic RSS


Win 94 32 spcl Smokeless sight adjustment
June 24, 2014
7:09 am
Ontario Canada
Forum Posts: 681
Member Since:
April 23, 2012
Offline
July 10, 2014
8:46 am
South Texas
Forum Posts: 838
Member Since:
March 20, 2010
Offline
The sight is elevated by hand. If you look at the side profile of the sight you will see small grooves on both sides of the the back edge of the "box" in which the sight spring and aperture contained. The base of the sight aperture has a notch that engages these grooves. Some are tough to move. They are pretty tight and may require a little muscle or something to pry to get it moving. As notches & grooves get worn down by use the sight is a little easier to adjust the elevation of the aperture.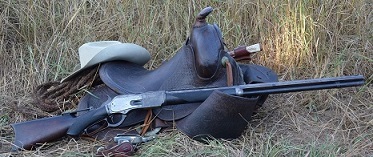 1892takedown @sbcglobal.net ......NRA Endowment Life Member.....WACA Member
"God is great.....beer is good.....and people are crazy."
July 10, 2014
9:30 am
Ontario Canada
Forum Posts: 681
Member Since:
April 23, 2012
Offline
I did find that I could move it only if I pried the Notched leaf back away from the serrations , and then I could push it back into the serration teeth to lock . Somewhat hard to land in your preferred position , as it has a tendency to skip one way or the other. Must be cumbersome to adjust in the field. Not sue how long they offered it, but peculiar that it is Model 94 and 32 Spcl Cartridge specific, as it would also have an identical application ( with correct height front sight ) for the other 94 smokeless Cartridges and might have been popular , if user friendly
Phil

---
Forum Stats:
Groups: 1
Forums: 16
Topics: 6372
Posts: 51108
Member Stats:
Guest Posters: 851
Members: 8536
Moderators: 4
Admins: 3