Topic RSS


needing a crash course on model 50
October 10, 2016
3:17 am

South Tx
Forum Posts: 105
Member Since:
April 18, 2016
Offline
A friend of mine brought out a model 50 the other day. I must admit I was jealous, so now I am on the hunt but I dont know much about them. Such as years of manufacture, available grades, price points high condition to low and pre and post 64 if they were made after I dunno see? and is this gun gas or mechanical? I didn't check when I had it in my hands. Is this gun at all related to the widow maker? feedback is very much appreciated.
October 10, 2016
3:35 pm

Kingston, WA
Forum Posts: 11852
Member Since:
April 15, 2005
Offline
Patrick,
Please keep in mind that I am very far from being an expert on the Model 50… with that stated I will attempt to address your questions.
The Model 50 production took place from 1954 – 1960, with a listed total of 196,402 manufactured (I have no idea how accurate that number is). The Model 50 used the "short-recoil" mechanical versus gas operating system. To the best of my knowledge, it is not related to the Model 1911 a.k.a. "Widow Maker". I will need to check my old catalogs concerning the grades/variations it was offered in.
Bert
WACA 6571L, Historian & Board of Director Member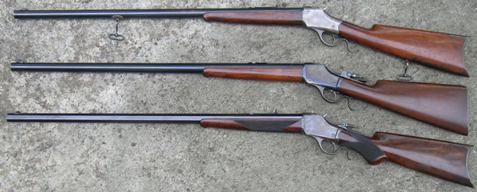 October 14, 2016
2:34 am

South Tx
Forum Posts: 105
Member Since:
April 18, 2016
Offline
October 14, 2016
3:05 pm

Kingston, WA
Forum Posts: 11852
Member Since:
April 15, 2005
Offline
As it turns out, I had put this together about a year ago so that it could be added to the "Winchester Model Information" tab on the WACA website, but must have forgot to submit to the website architects.
"The Model 50 Automatic (Self-Loading) Shotgun
 
The Model 50 Automatic (self-loading) shotgun was introduced in 1954. It was Winchester's third semi-automatic shotgun.  It was offered in the 12 and 20 gauge 2-3/4" shell only.
Production of the Model 50 began in April of 1954, and it was discontinued in December of 1961.  Unlike preceding models, the serial numbers began at 1000.  The total production was approximately 196,402 guns.
The Model 50 was offered in a Field Gun, Skeet Gun, Trap Gun, Featherweight, and Pigeon Grade.  Winchester Special ventilated ribs were offered or were standard depending on which variation of gun was ordered.  Barrel lengths were 26", 28" or 30" for 12-gauge guns, and 26" or 28" for the 20-gauge guns.  Chokes were Full, Modified, Improved Cylinder, or Winchester Skeet.  The stocks were walnut, hand checkered, pistol grip, fluted comb, with a composition butt plate.  Interchangeable barrels were offered in various lengths and chokes, no tools or factory-fitting was required.
The Cody Firearms Museum Records Office does not have any records for this model."
There is a substantial difference in the value number depending on which variation it is, and the graded condition.  It is covered in Chapter 6 of the Red Book of Winchester Values, 4th edition (available through the WACA Bookstore).
Bert
WACA 6571L, Historian & Board of Director Member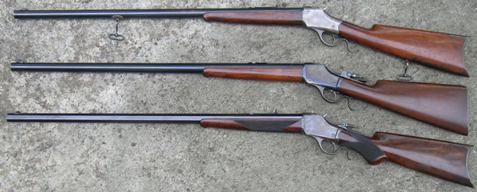 October 20, 2016
11:01 pm
Kentucky
Forum Posts: 76
Member Since:
July 3, 2016
Offline
September 4, 2021
1:34 pm

Charles Nicholson
I just got a Model 50 from my uncle. It is in great shape and shoots well. My problem is, it's funky to load. When you push the shell in the bottom, you have to hold down the bolt release button. Then when the shell is in place you release the button. The shell then pops back partially out of the mag tube and the rim rests on the edge of the magazine door flap. Inserting the next shell is tough. You can't insert it without pressing the bolt release again. When you press it and try to insert the shell, the first shell is released and comes back out unless you force it back into the magazine. If you can do it, then the magazine door flap catchs your thumb like a trap. 
---
Most Users Ever Online: 628
Currently Online: 28 gauge, TR
49 Guest(s)
Currently Browsing this Page:
1 Guest(s)
Forum Stats:
Groups: 1
Forums: 16
Topics: 9182
Posts: 79061
Member Stats:
Guest Posters: 1238
Members: 10632
Moderators: 4
Admins: 3