Topic RSS


Need some info on a "new" Model 12
April 25, 2021
2:31 am

GA
Forum Posts: 41
Member Since:
January 1, 2021
Offline
  My son just purchased a Model 12 Featherweight 12ga 2 3/4 Chamber, SN1809890f, 26″ barrel marked Mod choke, it has a Cyclone adjustable choke installed. I need to know DOM and could the Cyclone choke be factory installed or aftermarket. I'm guessing it's aftermarket but I've also been told that Winchester had both Polychoke and Cyclone adjustable chokes listed as special order items. I haven't tried contacting Cody yet, thought I'd check with our experts first.
Any information would be appreciated.
  Mike
U.S. Army combat vet,  32 years CCFD Lt. (retired),  NRA Benefactor member,  Marlin Firearms Collector Asso.,  Cody Firearms Museum member - 89213093,  WACA member - 11928,  Griffin Gun Club board member, Hunter, BPCR shooter,  Hand loader,  Bullet Caster
April 25, 2021
4:51 am

Kingston, WA
Forum Posts: 11838
Member Since:
April 15, 2005
Offline
Mike,
July 1958.  Unfortunately, the Cyclone adjustable choke is an aftermarket alteration.  The clue is the fact that the barrel has a choke marking stamped on it.  In the rare instances where Winchester factory installed and external choke device, the barrel was not marked with a choke constriction.
The CFM has no records for the Model 12 other than the PR records.
Bert
WACA 6571L, Historian & Board of Director Member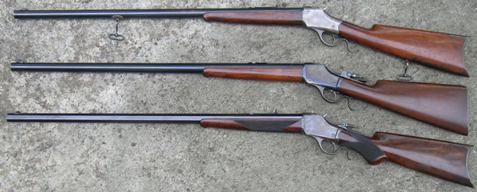 April 25, 2021
1:53 pm

GA
Forum Posts: 41
Member Since:
January 1, 2021
Offline
  Thanks Bert, that's pretty much what I thought. Dumb question, what does PR mean? Will that give me a D.O.M.?
  It's a very nice shotgun and handles very well, as to be expected from a Winchester. 
U.S. Army combat vet,  32 years CCFD Lt. (retired),  NRA Benefactor member,  Marlin Firearms Collector Asso.,  Cody Firearms Museum member - 89213093,  WACA member - 11928,  Griffin Gun Club board member, Hunter, BPCR shooter,  Hand loader,  Bullet Caster
April 25, 2021
4:31 pm

Kingston, WA
Forum Posts: 11838
Member Since:
April 15, 2005
Offline
---
Forum Stats:
Groups: 1
Forums: 16
Topics: 9157
Posts: 78863
Member Stats:
Guest Posters: 1234
Members: 10623
Moderators: 4
Admins: 3