Topic RSS


Model 42 considering buying from fellow on GunsAmerica
March 26, 2016
10:41 pm

Stan Koehne
The seller has a NIB Model 42 with serial # WFT406.  He has it priced at $2265.00, which appears to be very low for a NIB Model 42.
The box end shows it was made in Japan, and has a sticker with the above serial number glued over where the actual serial number should be located in the bottom right corner of the Winchester sticker on the box end.
It also says Olin Corporation and on top of the bar code is the Code Number: 35410.
Below the bar code are the numbers: 48702 35410.  The complete bar code is: 0 4870235410 6
It also says: "Winchester Trademark Licensed From Olin Corporation.  This is located on the sticker which covers up the true serial number.
The Winchester sticker shows it to be High Grade, 26" barrel, 3" chamber and Full choke.
I have many questions, but the main one is: Do you think this is a fake model 42 and did Winchester (Olin) have any of these made in Japan?
Thanks for your help with this.
March 27, 2016
12:01 am

Kingston, WA
Forum Posts: 9978
Member Since:
April 15, 2005
Offline
March 27, 2016
4:21 am

Stan Koehne
March 27, 2016
4:55 am

Kingston, WA
Forum Posts: 9978
Member Since:
April 15, 2005
Offline
Stan,
No, I do not know when they started making them in Miroku Japan, but believe that it was after Olin Industries got out of the gun making business in December of 1980.
Olin bought the original Winchester Repeating Arms Company in 1930 (out of bankruptcy), and owned the New Haven CT factory until May of 1981 when it was sold to the newly formed U.S. Repeating Arms Co. (USRACo). I very much suspect that the Model 42 shotguns manufacture in Japan were in the 1990s.
Bert
WACA 6571L, Historian & Board of Director Member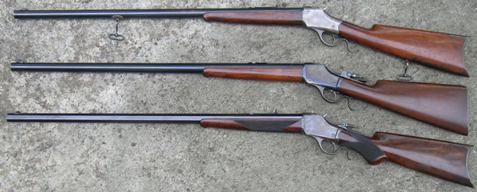 ---
Forum Stats:
Groups: 1
Forums: 16
Topics: 7286
Posts: 60292
Member Stats:
Guest Posters: 985
Members: 9268
Moderators: 5
Admins: 3