Topic RSS


Model 1897
March 30, 2021
10:06 pm

gp52555
I got a 1897 on a trade. It is a solid model ser# "E" 490811 which I believe is 1910. It has a 20″ CLY bbl. Unfortunately the barrel has some marks that appear to be from vice grips and the shotgun has been parkerized a silver/grey (very good job). Could this be an original riot gun configuration or a cut down. I really have no use for this and it probably has no collector value because of being refinished. I just want to be able to give an honest description if I decide to list this. Thanks.
March 30, 2021
11:45 pm

Kingston, WA
Forum Posts: 11836
Member Since:
April 15, 2005
Offline
Because it has a 20-inch CYL marked barrel, and it is a Solid frame, the odds are very good that it left the factory as an original Riot Gun. The S/N identifies it as a June 1910 production gun. You are correct that the collector value took a serious hit when it was refinished and wrenched on.
WACA 6571L, Historian & Board of Director Member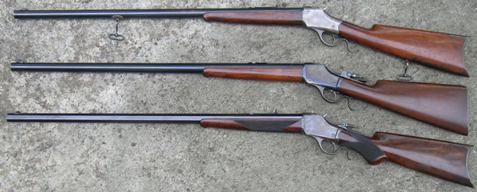 April 15, 2021
7:18 pm

Bishop
April 15, 2021
7:32 pm

Kingston, WA
Forum Posts: 11836
Member Since:
April 15, 2005
Offline
Bishop said
How can you find out more information from the S/N? I recently purchased a model 1897 and desire to know more about it. It's a solid frame E model S/N 793285 with a 27-inch barrel that seems to be in very good condition.  
Two questions;
1.  Are you sure that it is a Solid Frame gun?  The reason I ask, is that by the time your Model "97′ was manufactured (September 1924), the only the Riot Gun (with its 2-inch CYL bore barrel) was being made as a Solid Frame.  All other variations of the Model 97 were Take Downs.
2. Are you sure that the barrel is actually 27-inches long?  Standard length was 30-inchs, with optional lengths of 26, 28, and 32 inches. Always even inch lengths.  I suspect that you did not include the portion of the barrel threaded into the receiver or take down extension.  The correct method to measure the barrel length is to close the action with an empty chamber, run a cleaning rod (or similar) down the bore until is bottoms out on the bolt face, then mark and measure it where is exits the bore.  If the barrel is actually 27-inches long, the odds are high that somebody whacked 3-inches of it off.
You did not mention what the choke marking on the barrel is (e.g. FULL, MOD, or CYL).
WACA 6571L, Historian & Board of Director Member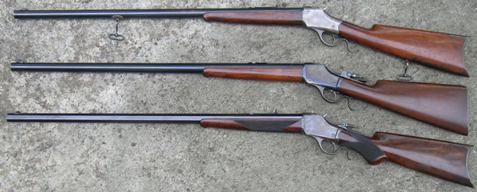 April 15, 2021
9:08 pm

Bishop
April 16, 2021
3:45 am

Kingston, WA
Forum Posts: 11836
Member Since:
April 15, 2005
Offline
---
Most Users Ever Online: 628
Currently Online: JayHawk44's Dad, .32WCF
63 Guest(s)
Currently Browsing this Page:
1 Guest(s)
Forum Stats:
Groups: 1
Forums: 16
Topics: 9155
Posts: 78858
Member Stats:
Guest Posters: 1234
Members: 10623
Moderators: 4
Admins: 3