Topic RSS


Model 1897 Trench gun help needed
February 26, 2015
5:31 pm
Forum Posts: 65
Member Since:
April 5, 2010
Offline
 I was just looking pictures of model ´97 Trench? gun, but I guess there´s something wrong...I have the pictures copied on my laptop, but I can´t get them visible here...can somebody help? Anyway, the serial of the gun is E 669017 (is the E prefix typical?), so it goes around 1915-16, I guess? The part that caught my eye is the hand guard, which comes way back from the pump handle, very close to the front part of the receiver. Is this correct? In every other trench gun I have seen, the end of the hand guard is on the same level as the end of the pump handle. The gun also seems to be reblued...
It would be nice to post the pictures here, so you could have a better view what I mean. I can send the pictures by e-mail to someone who can put them here, if you like...and yes, I did not buy the gun - too many suspicious things.
February 26, 2015
6:31 pm

Tom Doniphon
That gun was probably made around Oct. 1917.
Yes, the rear of the heat shield should be just about even with the rear of the foreend.  It does sound suspicious.  Could be either an aftermarket bayonet adaptor/heat shield, or someone could have taken a riot or long barreled gun and incorrectly cut the transverse grooves on the underside of the barrel to accommodate the bayonet adaptor screws thereby making it not fit properly.
I'm sorry I can't help you with the posting of photos.
February 27, 2015
4:02 am

Kingston, WA
Forum Posts: 9632
Member Since:
April 15, 2005
Offline
Send the pictures to me at Win1885@msn.com
Bert
p.s. October 1917 is the correct DOM.
WACA 6571L, Historian & Board of Director Member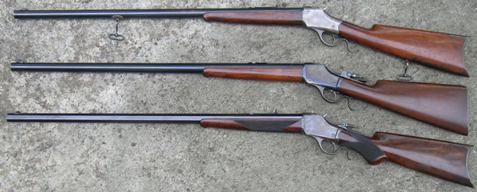 ---
Most Users Ever Online: 628
Currently Online: Big Mac
53 Guest(s)
Currently Browsing this Page:
1 Guest(s)
Forum Stats:
Groups: 1
Forums: 16
Topics: 6883
Posts: 55781
Member Stats:
Guest Posters: 932
Members: 8950
Moderators: 5
Admins: 3