Topic RSS


Model 1897 Prison Gun?
August 29, 2021
7:54 pm
Forum Posts: 1
Member Since:
August 29, 2021
Offline
  I recently obtained a take down Model1897 that was supposedly used in the Colorado State Penitentiary in Canon City. Serial #528xx. "C" above the #. Bbl. is marked on top "12"  Pat. Nov.25.90 / Dec.6.92 / July 21.96 / Feb 26.98. No chock marked , no serial #. Bbl. measures 25.5 " from front of chamber.
      Gun is in beautiful shape and came in a fitted crate type wood case with a brass  plaque with " Colorado State Penitentiary " above  " Canon, Colorado "
Action slide marked " Winchester Model 1897″. I wonder if the case could have been made in the prison ? No prison markings on the gun. I would appreciate any info.[Image Can Not Be Found]I don't know how to poste a picture.
August 30, 2021
3:20 am

Kingston, WA
Forum Posts: 11852
Member Since:
April 15, 2005
Offline
Hello Frank,
With a 25.5″ barrel, it most definitely is not a Riot Gun or Guard Gun. It would help if you provided the entire serial number and some pictures of the gun.
Based on the partial S/N you provided, the gun was manufactured sometime in June, 1898. As such, the Cody Firearms Museum (CFM) records office has the factory records and can tell you what the original "as built" configuration of the gun was when it shipped .
I have my doubts that the Colorado State Penitentiary would have made a wood case for a guard gun.
Pictures can be sent to me at Win1885@msn.com
WACA 6571L, Historian & Board of Director Member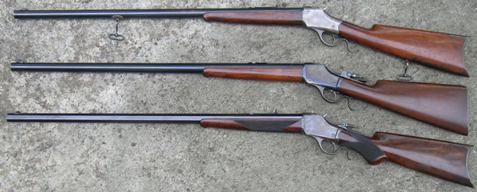 ---
Forum Stats:
Groups: 1
Forums: 16
Topics: 9182
Posts: 79063
Member Stats:
Guest Posters: 1238
Members: 10632
Moderators: 4
Admins: 3