Hi there folks I'm new to the forum. Little back story. I've been in love with Winchester 1897s for years since my father bought me an old wore out field model from a pawn shop for $250 for Christmas one year and it out shot even my most expensive shotguns. Since then I've picked up a nicer shooter field grade gun and a norinco "trench gun" (don't have the pockets for an original) Well anyway one of my bucket list guns since then has been a black diamond but I never thought I'd find one I could afford. 
I happened to be at my LGS and my pop pointed out a nice 97 in the trap/sporting case and I bout fell down when they pulled it and it had black diamond on the wrist! It's definitely been refinished at some point in her life but they did a really good job on it. From the serial number it's a 1906 model. 
Only things I don't necessarily like but didn't stop me is the top of the barrel isn't knurled and the whole top of the receiver has been matted (it's very tasteful looking but more like a modern gun). I'll try and get some better pictures up but can anyone tellu me anything bout these I don't know? Or what I can look at to verify that's it's indeed a real one? Were these ordered without knurled barrel tops? Also just for curiosity what is the process that someone did to matte the whole top of the receiver? I've got a request into the Cody museum to get a letter if it is indeed a real diamond. 
Sorry for being long winded but I can't believe I tracked down one of my dream guns!
Serial number 325xxx
The Model 1897 in the picture you posted appears to be a factory manufactured Trap Gun.  I will assume that the top of the bolt is marked "TRAP GUN".  It should be a "D" series gun, and based on the partial serial number you mention, it was manufactured in May of 1906 (I would like to know what the complete S/N is for my research survey).  
Not all Trap Guns were manufactured with a roll matted barrel.  In regards to the matted receiver frame top, I will need to see a clear close-up picture of it to determine if it is factory original, or if was matted after the fact.
The CFM letter should contain information that will help identify the authenticity of the gun.
Bert
WACA 6571L, Historian & Board of Director Member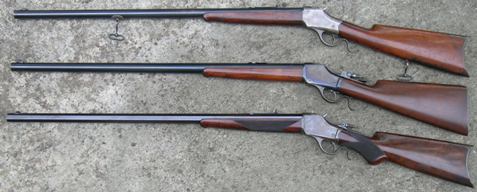 Northern edge of the D/FW Metromess
Forum Posts: 3904
Member Since:
November 7, 2015

Offline
Good looking 1897! Configuration is consistent with an 1897 Trap Gun IMHO but the receiver top does look a bit odd. I like the gun, I don't see anything that screams "refinished" but as you probably know this gun was probably owned by at least one pretty serious Trap shooter and just like today quite a few guns in the rack at a Trap meet have been refinished or modified. 
Mike
Life Member TSRA, Endowment Member NRA
BBHC Member, TGCA Member
Smokeless powder is a passing fad! -Steve Garbe
I hate rude behavior in a man. I won't tolerate it. -Woodrow F. Call, Lonesome Dove
Some of my favorite recipes start out with a handful of depleted counterbalance devices.-TXGunNut
Presbyopia be damned, I'm going to shoot this thing! -TXGunNut
I added 3 more photos of how the receiver is matted. I'm sure the gun has been redone at some point but it's been extremely well done from what I can tell. The bolt is marked trap gun and the serial is D 325933
It appears that the upper part of the receiver frame has been glass bead blasted to make it a dull gray.  The roll matting on the top of the receiver frame appears to be factory original, but it has been damaged by the bead blast job.  The barrel has positively been reblued.
Bert
WACA 6571L, Historian & Board of Director Member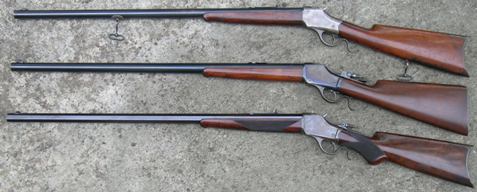 Most Users Ever Online:
628
Currently Browsing this Page:
1
Guest(s)
Forum Stats:
Groups: 1
Forums: 16
Topics: 10429
Posts: 89895
Member Stats:
Guest Posters: 1433
Members: 11521
Moderators: 3
Admins: 3
©
Simple:Press
—