Tom Doniphon
The military contracts for the Model 1200 ran from about 1968 to 1970.  Many of the military guns have serial numbers in the 400,000 range.  The guns in that serial number range do not have the L prefix.  The military serials then jump to the high 500,000 range.   The guns in that range do have the L prefix to the serial number.  Your gun's number (L525700) is in between the low and high numbered military guns.  So your 1200 could very well have been made sometime in the 1968 to 1970 time frame.
Sorry to cross post, found this thread to be more recent.
Anyone willing or able to help me out…
I inherited my stepfathers Winchester 1200 Ser# L541068 
what info I did find was pretty minimal, realized the "L" prefix postdates the GCA of 1968.
is anyone able to help me dial the date a bit more? 
Appreciate any help.
Always been a bow and rifle hunter. 
1st shot gun and am excited to tag the 1st Turkey, ring neck, or grouse.
Thanks all.
Oregon Guy
There are no production tables for the early Model 1200.  It's a guestimate based on the Military Model 1200 shotguns.  The Military guns are from contracts made in 1968 and 1969 and run from approximately serial number 400,000 to the low L57x,xxx range.   The L prefix to the serial number was first used after the Gun Control Act of November 1968.  So,1969 is likely the year your shotgun was made.

Jon T
Jon T said
I have a serial number L847230 on my warranty deed. Is this a valid number? Gun was stolen and I want to make sure the police have the correct number to check pawn shops. Says purchase date was 10/19/74. Thank you for any information. 

  
Hello Jon,
Yes, "L847230" is a valid Model 1200 serial number.
Bert
WACA 6571L, Historian & Board of Director Member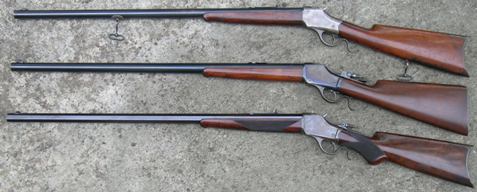 Most Users Ever Online:
778
Currently Browsing this Page:
1
Guest(s)
Forum Stats:
Groups: 1
Forums: 16
Topics: 11862
Posts: 102814
Member Stats:
Guest Posters: 1637
Members: 12496
Moderators: 4
Admins: 3
©
Simple:Press
—