I picked up an 1893 A-prefix yesterday.
Fortunately, the barrel and action were in superb mechanical condition, both inside and out. However, someone had spray painted the barrel with black spray paint. 👿 However, I'm soaking it in some oil and it mostly seems to be coming off with nothing other than my fingernail. 🙂 For $350, I can't argue.
It is a 15,xxx number gun.
It looks as though it almost disassebles like an early solid frame 1897 with exception of how the action slide comes out of the carrier. Do I drift out the piece that blocks the action slide groove out at the front bottom of the carrier?
Just to say, I'm no stranger to 1897's, as I have one or two of them. 🙂
Also, what is the highest serial number with the first type of magazine retention system?
Hello Andy,
The paint can be more quickly and easily removed with an acetone bath.
I have never disassembled my Model 1893, but I assumed that it would be the same as an early (pre-C) Model 1897.
By "first type" magazine tube retention, I assume that you are referring to the transition from the type without the screw on the lower right side of the receiver frame? If so, I believe the transition occurred simultaneously with the introduction of the Model 1897.
Lastly, I am conducting a survey of all the surviving Model 1893s I can locate. As such, I would like to add your gun to my survey if you are willing.
Bert H.
WACA 6571L, Historian & Board of Director Member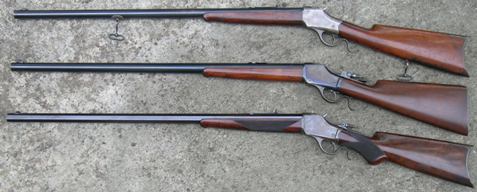 Hello Andy,
OK, I know exactly what you are referring to now… and I believe that it was used at least through the early Model 1897s. I own an early Model 1897 (pre C-series, serial 45287) that has the lug on the barrel. That style of magazine tube retainer was a carry-over from the Model 1887. I will have to start paying more attention to that feature.
Bert
WACA 6571L, Historian & Board of Director Member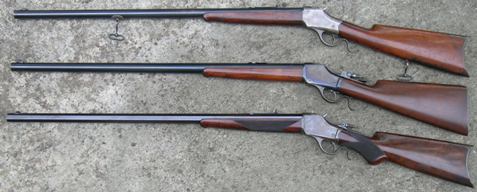 Ugh!!!
The smooth steel buttplate is cracked!


I don't think anyone makes reproduction smooth plates, and I don't have one hangin' around.
If someone has one, let me know. I looked at the smooth shotgun buttplate made for the 1885, but I don't think it is wide enough. Perhaps one from an 1887?
Andy,
The Model 1887s used the checkered steel butt plate to the best of my knowledge (that is what is on my 1887, serial 8845), though some of the later ones may have a smooth steel butt plate on them.
There is a good possibility that a Model 1885 smooth steel but plate will fit, or at least come real close to it.
One has to wonder how the steel butt plate cracked, but no apparent damage to the stock?
Bert
WACA 6571L, Historian & Board of Director Member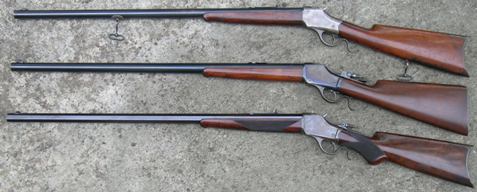 I was at a local gun show today, and a guy I know has a model 1893 with 20" barrel. He sent to Cody for a letter and the gun letters with a 20" barrel. Bert, I know you are doing a survey of this model. About how many 1893's with 20" barrels were made? I can get you the sn# when I talk to him next. By the way, this guy wants to sell it.
Thanks,
Al
Forum Posts: 106
Member Since:
April 18, 2012

Offline
I have three 1897s that I use in Cowboy Action Shooting. You need three…One to shoot, one for back-up, and one at the gunsmiths….!
The 1893 is not allowed in CAS because of some inherent safety concerns about the gun firing out of battery which was corrected in the 1897. Anyone know more about this?
I believe the 1893/97 is one of the more complicated guns on the planet. I've read it has 101 parts, more than any other shoulder fired gun ever manufactured. I've taken mine apart a time or two but it ain't fun. Be sure to have a good book or the Gun School CD that is available.
Good luck!
Most Users Ever Online:
778
Currently Browsing this Page:
1
Guest(s)
Forum Stats:
Groups: 1
Forums: 17
Topics: 12147
Posts: 105097
Member Stats:
Guest Posters: 1686
Members: 12677
Moderators: 4
Admins: 3
©
Simple:Press
—