Topic RSS


1897 takedown serial numbers
January 11, 2019
2:34 am
Forum Posts: 6
Member Since:
January 11, 2019
Offline
January 11, 2019
5:12 am

Kingston, WA
Forum Posts: 9312
Member Since:
April 15, 2005
Offline
April 1, 2019
2:40 pm
Forum Posts: 6
Member Since:
January 11, 2019
Offline
I am wondering if maybe some of the very early ones may not have had the serial number on the takedown section, I have seen one other with a 53k serial number that looked "right" that did not have the serial number on the takedown section.
 I have one with a 516xx serial number, the serial  number was applied on April 28th 1898, the patent was not approved until June 14th so this would be a very early piece, the June patent number of course is not on the barrel, and the Browning Bros. stamp is applied very much centered on the barrel unlike most of the stamped pieces sold by Browning Bros. (seriously some look like they were stamped on the loading dock by a teenager)
 The piece looks "right" like it has spent its entire life together, There also appears to be tool marks that would not normally be seen on a Winchester. UNFORTUNATELY somebody cut down the 30" barrel so it is only worth a fraction of what it may have been worth.....

April 1, 2019
3:23 pm

Kingston, WA
Forum Posts: 9312
Member Since:
April 15, 2005
Offline
I have examined several dozen early production Model 1897 Take Down shotguns, and all of them have had the serial number stamped on the take down extension, and on the receiver. Serial number 51389 was the very first Model 1897 Take Down, serialized on 4/21/1898, and then received in the warehouse as a completed ready to sell gun on 4/25/1898. The early production guns did have a more lightly stamped serial number, but are usually easy to read/see.
Bert
WACA 6571L, Historian & Board of Director Member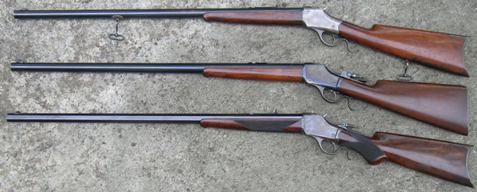 April 1, 2019
9:40 pm
Forum Posts: 6
Member Since:
January 11, 2019
Offline
Thanks, that would place mine at about the 250th one built, I stared at it long enough through a magnifying glass that I started to see what looked like numbers but they would be aligned with the bottom of the numbers touching the gap between sections, have not seen any like that during searches.
But it is what it is, an early piece ruined by somebody trying to make it "better" still looks cool over the mantle and probably would shoot fine, everything appears to be OK.
 Any idea how many takedown 1897s were built?
April 1, 2019
9:58 pm

Kingston, WA
Forum Posts: 9312
Member Since:
April 15, 2005
Offline
---
Most Users Ever Online: 628
Currently Online: steff, Michael Brown
51 Guest(s)
Currently Browsing this Page:
1 Guest(s)
Forum Stats:
Groups: 1
Forums: 16
Topics: 6372
Posts: 51113
Member Stats:
Guest Posters: 851
Members: 8536
Moderators: 4
Admins: 3