Topic RSS


1897 request for info
April 13, 2021
3:24 pm
Forum Posts: 1
Member Since:
April 13, 2021
Offline
I hope you all are doing well. I was hoping you guys could help me with an issue I have.
I have an 1897 clone that is like-new. When I pump the action without any shells in the weapon, everything is flawless. The the hammer stays back regardless of how slow or fast I rack the action, whether clumsy or deliberate. Perfectly fine. 
However, when loaded, whether with snap caps or live shells, if I don't rack with extreme authority (even the slightest bit soft) the hammer follows the bolt home to the half-cock position every time. I am new to the 1897 game, so this might very well be normal, but it seems abnormal to have to rack the shotgun that hard to keep the hammer back, especially since it is a breeze when the weapon is unloaded. 
Any information you guys could give would be greatly appreciated. Thank you in advance and I hope you all have a pleasant week. : )
April 13, 2021
3:37 pm

Kingston, WA
Forum Posts: 11838
Member Since:
April 15, 2005
Offline
The real (original) Model 1897 Slide-action shotguns do not have the problem you are describing.  Frankly, you get what you pay for when buying a "clone".  My suggestion is to return the gun for a refund, or take it to a gun smith to see if it is something that can easily be fixed.
Bert
WACA 6571L, Historian & Board of Director Member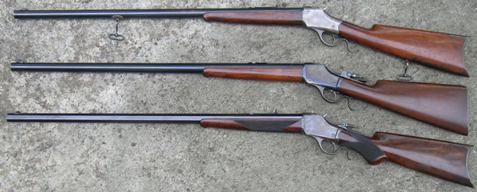 ---
Forum Stats:
Groups: 1
Forums: 16
Topics: 9157
Posts: 78863
Member Stats:
Guest Posters: 1234
Members: 10623
Moderators: 4
Admins: 3