Topic RSS


1887 without gauge mark
December 12, 2019
9:06 pm
Forum Posts: 2
Member Since:
December 7, 2018
Offline
I just acquired a very nice 1887 in very good shape.  The color case hardening is still visible, the 30" barrel has darkened to a deep plum with the WP proof mark clearly visible, the action cycles perfectly and locks up tightly, and the engraving on the left side is crisp.  None of the screws are buggered, and the wood is what you'd expect but in good shape.  The only real detriment to this appears to be a polyurethane (or equivalent) finish over the wood.  It has a 4797 serial number indicating 1887 manufacture (if I'm reading the serial number tables correctly, that is).
However, I don't see the 10 or 12 gauge marking on the barrel as I've seen on later 1887s.  All of the engraving is highly visible, and I did a very close inspection just to make sure the gauge engraving hadn't somehow worn away.  The only information I found online says that 30" barrels were 12 gauge (from gun-data.com, courtesy of Madis' "The Winchester Book").
My questions that I can't find are can I depend on this info without the gauge mark, and when did Winchester started engraving the gauge on the barrel?
And yes, I'm planning on buying the appropriate BP shells or reloading appropriately.
December 13, 2019
12:36 am

Kingston, WA
Forum Posts: 10344
Member Since:
April 15, 2005
Offline
Hello Jim,
All of the early production Model 1887 shotguns were 12-ga, and were not marked. When Winchester introduced the 10-ga (@ serial number 22153), they began marking the gauge on top of all of the barrels. A 30" inch barrel is not a guarantee that a Model 1887 is a 12-ga. Serial number 4797 was manufactured in October, 1887.
Bert
WACA 6571L, Historian & Board of Director Member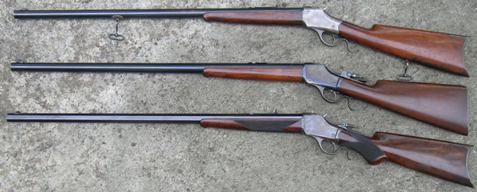 December 13, 2019
8:38 pm
Forum Posts: 2
Member Since:
December 7, 2018
Offline
---
Forum Stats:
Groups: 1
Forums: 16
Topics: 7630
Posts: 63638
Member Stats:
Guest Posters: 1040
Members: 9544
Moderators: 5
Admins: 3