Rob Cogdill
Could be remnants of a donor to make a composite "high" condition carbine. Probably the exact type often found on Rock Island Auction. Muskets can be found near mint for under $7,000, one can make a $20,000 carbine with a little handy work. Notice how conveniently the rear band is missing…
Be careful out there guys. – Rob
eBay item number:
192400111625

Kingston, WA
Forum Posts: 14031
Member Since:
April 15, 2005

Offline
Rob,
The ebay item number you mention is not valid. Further, because all Model 1873s can be lettered, converting a Musket to a Carbine is a "Fools Errand". The people who have $20K to spend on a Winchester Model 1873 will undoubtedly verify it through the CFM before parting with the cash.
Bert
WACA 6571L, Historian & Board of Director Member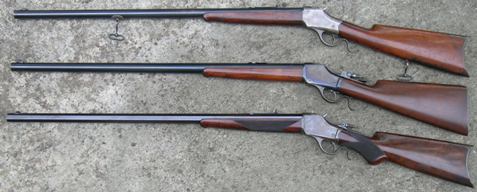 Rob Cogdill said
Could be remnants of a donor to make a composite "high" condition carbine. Probably the exact type often found on Rock Island Auction. Muskets can be found near mint for under $7,000, one can make a $20,000 carbine with a little handy work. Notice how conveniently the rear band is missing…

Be careful out there guys. – Rob

 

eBay item number:

192400111625  
It was not the rear band that was missing, it was the middle band with the sling on it. If a guy was to make a carbine out of back half they would of took the rear band since that one is the correct size and that would of kept the wood and shortened it to the correct carbine length. Also like Bert said the serial number will be for a musket.
Bob
"This is the West, sir. When the legend becomes fact, print the legend." 
Guys are buying cheap guns at auction and parting them out on ebay.
Bob
1873man said
Guys are buying cheap guns at auction and parting them out on ebay.

Bob  
  The parts are sold to someone building a gun or upgrading one, just like a donor cars is used in the restoration of classic cars. The difference is they are not doing a complete restoration, they are building a composite gun out of original parts, (clone) . I do not like clones, I like original guns assembled by Winchester. I do not like guns that are over cleaned, it's hard to tell if all the parts came together, 100 years of storage leaves a residue that if left on makes it easy to spot a clone. T/R  
While I would not want a parts gun it does allow some folks without the money for a nice original gun to own a gun of their choice in their price range. A worn grey 94 from the 30s can be bought for 400 dollars in some cases and broken into parts and sold for double that. Do that a few times and you can buy a quite nice model 94. Some folks just plain like a project to tinker with and this suits them just fine. Don't ask me how I know all this but it has allowed me to accumulate some very nice guns with a lot less cash outlay.
THIS ALL STARTED WITH JUST ONE GUN!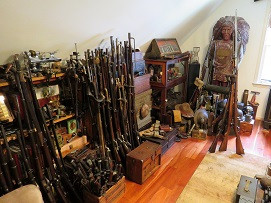 When a slick gun dealer sells a new collector a clone for original prices and his friends tell him what he's got, he quits collecting. These new collectors are necessary for the hobby to continue and the responsibility of fellow collectors to help new collectors. I just described the "Winchester Arms Collectors Association   Forum". I'm not talking about a $400. fun gun or a shooter, I'm talking about the $20,000 clones that are out there. With that kind of money you can build a very good clone for less than half the money.  Thanks for the heads up Rob.  T/R    
That is why all my high end guns have come from estate consignments or directly from the family. Prices are much better buying this way. Granted I can't just decide what to buy and go find one but I have collected a large amount of either very rare or high condition guns this way. A friend buys guns through the auction houses and he gotten 2 to 3 bad guns for every good one. They often run misleading pictures. He has bought guns from dealers at the Baltimore show and they have turned out to be 100 percent fake.
THIS ALL STARTED WITH JUST ONE GUN!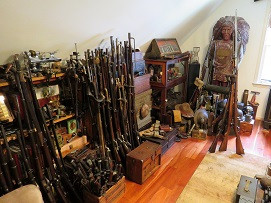 1873man said
Here is one.

Bob  
Incredible listing for an auction house!  Glossing over the fact that the "high condition" carbine shipped as a musket is a very thinly veiled attempt to later claim to have presented an honest description.  Will have to check my Big Book to see if it really states that Winchester expected people to carry a carbine on a sling attached from buttplate to saddle ring, about 12″ apart?  And it "appears" to be factory?  And only 4 photos for a piece that they expect to go as high as $14,000?  Maybe to hide the detail of the magazine being longer than the barrel.
"This is the West, sir. When the legend becomes fact, print the legend." 
Los Angeles
Forum Posts: 380
Member Since:
January 19, 2006

Offline

You can't say they tried to hide the fact.
Bob
Most Users Ever Online:
778
Currently Browsing this Page:
1
Guest(s)
Forum Stats:
Groups: 1
Forums: 16
Topics: 11862
Posts: 102814
Member Stats:
Guest Posters: 1637
Members: 12496
Moderators: 4
Admins: 3
©
Simple:Press
—