wolfbait said
I just bought this. Reblued. Made 1917, .32 WS. #660xxx Carbine. Pistol grip, cheek piece, checkered wood, steel shotgun buttplate. No saddle ring. Ramp front sight. I have lots of pictures, but can not post them. [email protected]  
I know that I have had this discussion with you in the past, but I am going to say it again… you really need to stop using the Madis DOM information.  Model 1894 serial numbers 660000 – 661000 were all manufactured sometime in March 1914.  The CFM records office can provide you with the exact date if you so desire.
Based on your description of the gun, I am not of the belief that it is factory original.  Of the nearly 31,000 Model 1894s that I have documented in my research survey, there are exactly zero Carbines with a cheek piece butt stock.  That stated, it is entirely possible that you have a highly altered Rifle.  The fact that it has a Pistol Grip and no saddle ring is pointing towards it originally being manufactured as a Fancy Sporting Rifle or a Semi-deluxe rifle.  The other piece of information that strongly suggests an altered rifle is the ramp front sight on the Carbine barrel.  Winchester did not introduce the ramped front sights until April/May 1932.  Is the barrel marked "PROOF STEEL" ?  If so, that is another indication that it is not factory original to that gun.
If you would like, you can send your pictures to me at – [email protected]
Bert
WACA 6571L, Historian & Board of Director Member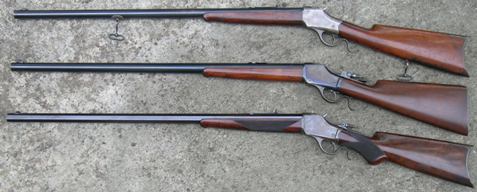 Here are your pictures;
As I suspected, you have a highly altered gun.  Specifically, the checkering pattern on both stocks is not factory original, the pistol grip cap is not factory original, and the barrel w/ramp front sight is definitely not original.  Somebody went to a fair amount of expense and trouble to assemble that gun, but it is definitely not a collector grade gun from an originality viewpoint.
WACA 6571L, Historian & Board of Director Member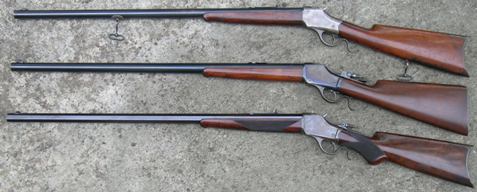 wolfbait said
As I expected. So, was it a rifle? Is the pistol grip lever correct? And the forearm? Thanks for examining it for me.

  
I would put my money on it originally being a Rifle versus a Carbine.  I cannot say for sure, but it is likely that the pistol grip lever is original.  The forend stock is not original.
WACA 6571L, Historian & Board of Director Member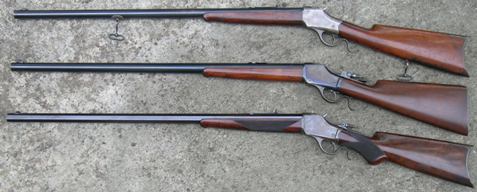 wolfbait said
Is there any other way to tell a rifle from a carbine? Is the rear sight dovetail different. The center of the dovetail is 2 1/4″ from the frame. Any difference in the location of the markings?  Thanks again for you assessment.

  
Rifle barrels and Carbine barrels are totally different in regard to the rear sight dovetail locations and the factory marling locations, but that does not help answer the question you are trying resolve (is your Model 1894 a "Rifle" or a "Carbine").  Because a carbine barrel can readily be installed on any Model 1894 receiver frame (by nearly any backyard Bubba gun smith) one cannot use the barrel alone as a determing factor.  Any "Rifle" can be converted to a "Carbine" if the right parts are used. 
In the case of the gun you have, the real clues that point to its original configuration is the lack of a saddle ring, the pistol grip tang, and an incorrect barrel front sight type for a 1914 production Model 1894 Carbine.  Again, Winchester did not introduce ramp style front sights until the year 1932. Further, the factory markings on the barrel, the length and contour of the barrel, and the rear sight dovetail positively ID it as a Carbine barrel versus a short "Rifle" barrel.
WACA 6571L, Historian & Board of Director Member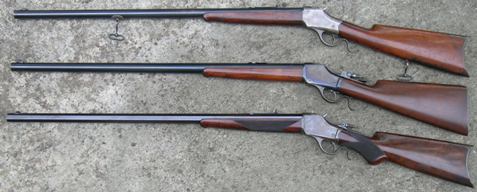 wolfbait said A lot of work, but some old time gunsmiths did things just to show they could do it. 
  
And because they had some discriminating customer willing to pay for fine custom work, which few on this site other than myself are capable of appreciating due to their rigidly fixed "factory original" blinders.  Only thing I find off-putting about this "trans-carbine" is the white-line spacer, suggesting the work was done in the '50s, when "white-lines" were all the rage.  (Was it Weatherby who popularized this exercise in bad taste? I admit to admiring his Rifleman ads, when I was a teenager, that is.) 
Forum Posts: 4165
Member Since:
November 19, 2006

Offline
Most Users Ever Online:
778
Currently Browsing this Page:
1
Guest(s)
Forum Stats:
Groups: 1
Forums: 16
Topics: 12133
Posts: 104951
Member Stats:
Guest Posters: 1682
Members: 12663
Moderators: 4
Admins: 3
©
Simple:Press
—