Zach
Zach said
Hi all,

Figured I'd get on here and post. Recently found an interesting rifle. 1892 Winchester with both a .44 and .45 barrel. Stamped argentine police. It's at an auction and I'm wondering how much to pay for this rare specimen. 

 

Thanks,

Zach  
So one barrel is mounted on the gun and the other barrel is an extra barrel?  Can you tell if the .45 barrel is .45 ACP or .45 Colt.  And, is it a rifle, or is it a carbine?

Zach
Zach said
Hi all,

Figured I'd get on here and post. Recently found an interesting rifle. 1892 Winchester with both a .44 and .45 barrel. Stamped argentine police. It's at an auction and I'm wondering how much to pay for this rare specimen. 

 Thanks,

Zach  
Sorry for the delayed response Zach.  I was out hiking in the Grand Canyon and not about to be lugging my computer along with me for the trip.  An extra nine pounds of camera equipment was enough!  
I have found 22 similarly marked Model 1892 saddle ring carbines while doing my survey of the 1892/92 rifles.   Can you post some images of the rifle and the serial number so I can add yours into the data also?  I would say that your $970 price tag is definitely a good price for the gun.  Has the barrel been shortened as in the rifle shown below?
Michael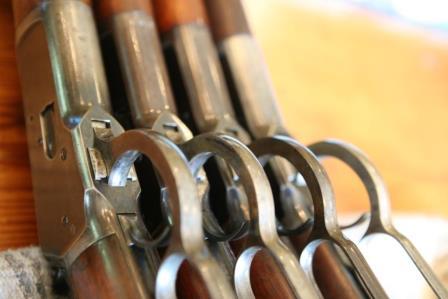 Model 1892 / Model 61 Collector, Research, Valuation
Forum Posts: 25
Member Since:
September 21, 2007

Offline

Zach
Sent another message but it didn't go through, I don't believe. Serial number is 886219. Both barrels are only 15.5″ in size. Before anyone mentions it, I have already sent an email to the ATF regarding the situation, as it is my understanding that this weapon will need an exemption letter due to the current laws regarding SBR's. That being said, I also realize that this is quite a rare find and is essentially valueless until I attain the exemption form to legitimize it. I am currently taking every step necessary to abide by any rules and regulations. That being said, it doesn't appear too difficult to attain exemption letters for these historical [Image Can Not Be Found]firearms. 
I've also tried to attach some photos for reference. Thanks

Zach
Also, figured I'd clarify. Barrel currently on rifle is a .44 WCF. On rifle it measures at 15″. My understanding is that if this is original barrel to the rifle (also have the .45 LC barrel in the same measurement, but it's not installed) I should be good to send it to the ATF and it coming back to me with a letter, correct? Hope so. I'd hate to have it confiscated over 1″ of barrel length on such a neat old gun. 
Thanks

Zach
Scratch that. Not a 15″ barrel. I just picked them up from the auction house and did a measurement using the dowel method. 16″ barrels, both of them. pretty decent little gun. Seems to be in decent shape. Looks like it might have been arsenal refinished in argentina but not 100% sure on that. I'm happy to upload some photos but can't figure out how. If someone can describe the process to me real quick or have me email them the photos, that'd be much appreciated. Since I will not need the ATF letter, what do you guys think is a reasonable price range for one of these? Thanks, Zach

Zach
Geez. Sorry for flooding the forum. Upon closer inspection of barrel that's on it, it is actually a Numrich barrel in .44 cal. The barrel that came with is the one marked .45LC. Also, man this is a handy little gun. So, it looks like it's not a factory .44WCF with 16″ barrel. From everything I'm reading, it looks like it was sent to Argentina, converted to .45 then sent back, and the fellow put a .44WCF 16″ barrel on it. Glad I have the original .45 barrel, but man, it'd be even sweeter if it came with the original 16″ .44WCF barrel. 
I have a vague memory of these.  Specifically that some were chambered in .45ACP but that was thought to be a misinterpretation and they were really chambered in .45 Colt.  However, it turns out many really were chambered in .45 ACP?  So, the known chamberings were .44-40, .45 ACP and .45 Colt?
Hello Zach,
As a guest member on the forum you do not have the ability to load images to the forum.  You can send them to me at [email protected] and I will be happy to do so.  Then we can figure this out.
Michael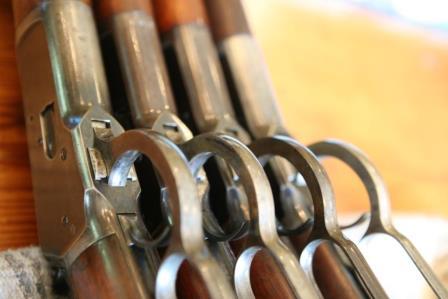 Model 1892 / Model 61 Collector, Research, Valuation
Most Users Ever Online:
628
Currently Browsing this Page:
1
Guest(s)
Forum Stats:
Groups: 1
Forums: 16
Topics: 10412
Posts: 89723
Member Stats:
Guest Posters: 1431
Members: 11501
Moderators: 3
Admins: 3
©
Simple:Press
—