Topic RSS


Recoil pads on model 64's
January 16, 2019
10:01 pm
Forum Posts: 257
Member Since:
November 8, 2011
Offline
I occasionally see model 64's that are being offered for sale with recoil pads.  A lot of the time, the seller is certain that the pad is factory original.  Do you think Winchester offered the 64 with recoil pad and, if yes, what pads would be correct?  I would think there would be several different pads across the 1930s to the 1960s......
It also makes me wonder what LOP they would have used if they installed a pad...
January 17, 2019
1:40 am

Kingston, WA
Forum Posts: 9145
Member Since:
April 15, 2005
Offline
Thus far I have surveyed nearly 2,600 original Model 64 rifles, and exactly (1) of them has a factory installed recoil pad (a solid red rubber Winchester pad). It was listed in the catalogs as a special order option, but it was rarely ever ordered. NO-SHOC pads were also offered. That stated, in my experience 99% of the Model 64 rifles found with a recoil pad were installed by a "local" gunsmith. On a rifle with an original factory installed recoil pad, the LOP would be as requested by the person who ordered it.
Bert
WACA 6571L, Historian & Board of Director Member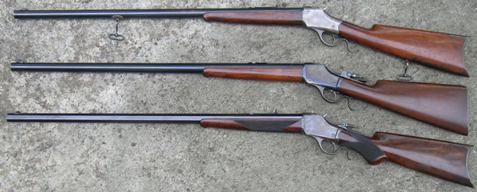 January 17, 2019
4:15 pm
Forum Posts: 416
Member Since:
March 23, 2010
Offline
January 17, 2019
4:45 pm
Forum Posts: 257
Member Since:
November 8, 2011
Offline
January 18, 2019
2:32 am

Kingston, WA
Forum Posts: 9145
Member Since:
April 15, 2005
Offline
January 19, 2019
6:57 am
Forum Posts: 155
Member Since:
February 18, 2011
Offline
Just to throw in my own 'non-expert', two cents. Competent factory record information perhaps near 'ultimate' in reasonable proof of Winchester recoil pad originality. For the myriad Winchesters without benefit of such source information for whatever reason, fact of viewing non-original pad not to speak directly toward whether or not such rifle originally pad equipped.
On 'vintage' rifles; comparable vintage pads usually hard, crumbling, useless appendages. Moreover, typically unsightly and long discarded. Once any pad installed at any point in rifle history, returning to 'non-pad' dimensions, usually aesthetic & practically, an impossibility. New pads consequential to replacing old pads, something of 'die cast'. Nowadays, 'original style' red Winchester pads, also not suggesting whatever original pattern so much as motive to provide 'aura of originality'.
Just my take
---
Forum Stats:
Groups: 1
Forums: 16
Topics: 6137
Posts: 49054
Member Stats:
Guest Posters: 810
Members: 8345
Moderators: 4
Admins: 3