Topic RSS


Never knew CFM is a player on GB
March 30, 2021
5:31 pm
Forum Posts: 787
Member Since:
September 28, 2016
Offline
March 30, 2021
5:47 pm

Kingston, WA
Forum Posts: 11838
Member Since:
April 15, 2005

Online
WACA 6571L, Historian & Board of Director Member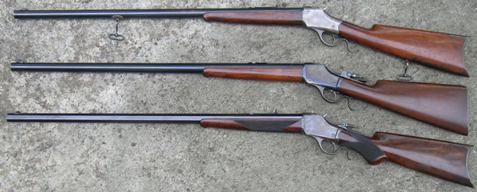 March 30, 2021
9:58 pm
Forum Posts: 787
Member Since:
September 28, 2016
Offline
March 30, 2021
10:06 pm

Kingston, WA
Forum Posts: 11838
Member Since:
April 15, 2005

Online
April 1, 2021
2:24 am
Forum Posts: 485
Member Since:
March 21, 2016
Offline

April 1, 2021
2:37 am
Northern edge of the D/FW Metromess
Forum Posts: 3341
Member Since:
November 7, 2015
Offline
B
Bert H. said
Erin,

I have no idea how much it is going to eventually sell for…   
Blew past my best estimate and didn't even slow down. I reckon someone wants to support a great cause and add a nice rifle to the stable. Well played.
Mike
Life Member TSRA, Endowment Member NRA
BBHC Member, TGCA Member
Smokeless powder is a passing fad! -Steve Garbe
I hate rude behavior in a man. I won't tolerate it. -Woodrow F. Call, Lonesome Dove
Some of my favorite recipes start out with a handful of depleted counterbalance devices.-TXGunNut
Presbyopia be damned, I'm going to shoot this thing! -TXGunNut
April 1, 2021
1:47 pm
Forum Posts: 787
Member Since:
September 28, 2016
Offline
April 12, 2021
8:14 pm

slyride
Hello,  ran across this post looking for a title similar to a posting from a seller that I think is fraud.  99% sure this is the case.  You can see the fake item on #897728581.  Pictures look like they were pulled from the CFM listing.  Submitted a fraud ticket with GB, but no response so far.  I ran across because I almost fell for one of their other auctions.  Beautiful gun too, have never seen anything like it.
---
Forum Stats:
Groups: 1
Forums: 16
Topics: 9157
Posts: 78862
Member Stats:
Guest Posters: 1234
Members: 10623
Moderators: 4
Admins: 3