We are attempting to locate info on an heirloom Winchester Model 94 that belonged to my Great-Grandfather.
We own a Winchester Model 1894 Trapper 30 WCF c.1908 Serial Number 449749 with saddle ring bracket (no ring) original barrell length 13 7/8″ with an overall length of 32 3/4″. This gun was owned and carried by my Great Grandfather/Grandfather on stagecoachs. Great Grandfather was the Ranch Manager for Pierre Wibeaux on his ranch in Eastern Montana and  Western North Dakota. Other than the year of manufacture, Winchester records are missing.  We wondered if there is any other way of locating more information on this firearm and we are curious as to its possible value.
Thank you.
Bill,
The barrel length you mention is very suspicious. The standard "Trapper" length barrel was 15-inches, with optional lengths of 14, 16, and 18 inches. Close the action, and then run a cleaning rod down the bore until it stops on the bolt face, and than mark and measure the rod where it exits the bore. If the barrel is shorter than 16-inches, you technically need to get cleared by the BATF (removed from the NFA and legally declared a "Curio & Relic).
The serial number "449749" positively identifies it as a January 1910 production Model 1894.
To provide a value estimate, we need to see the gun (clear detailed pictures of it).
Bert
WACA 6571L, Historian & Board of Director Member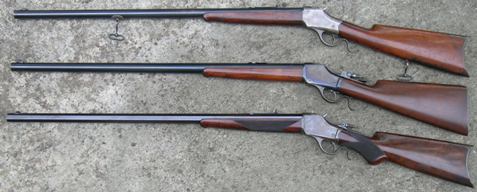 Bert,
Thank you for the info.  I can't get photos to post.  When I checked Winchester's site, they indicated the serial number would have been assigned in 1908 (I think)  The gun has been owned by the family since new and I do not believe there has been any alterations made to it.  When the breach is closed the barrel measurement is a bit over 14 1/2″.  Is it possible this was a special order gun? Pierre Wibeaux was a very important historic western figure and friend to presidents.  My Great Grandfather was his manager/foreman and a highly trusted individual.  I will see if I can figure out how to get photos posted.
Bill,
The measurement you came up with is a very strong indication that the barrel length is not factory original.  Winchester manufactured the Trapper barrels in exact inch lengths (e.g. 14.0, 15.0, 16.0, +/- 1/16″).  Send the pictures to me at [email protected].  Put a tape measure on the end of the muzzle and extend it to the rear edge of the frame ring and take a picture of it.  If you can, also take a picture of the barrel address marking, and a measurement of the forend stock length.
Bert
WACA 6571L, Historian & Board of Director Member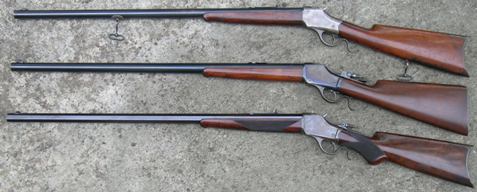 Most Users Ever Online:
778
Currently Browsing this Page:
1
Guest(s)
Forum Stats:
Groups: 1
Forums: 16
Topics: 11854
Posts: 102790
Member Stats:
Guest Posters: 1637
Members: 12493
Moderators: 4
Admins: 3
©
Simple:Press
—