Topic RSS


Model 43
May 8, 2021
4:01 pm
Forum Posts: 2
Member Since:
January 24, 2021
Offline
Good Morning
I am new to the collectors association hope I am in the  right place to ask a few questions. 
I recently acquired a model 43 in 218 Bee. Serial number 25450A. The Cody records office indicated the serial number was applied March 23, 1950 however in the email to me the "A" was absent on the records sheet. Does anyone know What the A stands for?  The magazine has the letter B  on the follower but no other identification, wondering if this is a factory magazine.? The rifle appears to be in good condition and has not been drilled and tapped. At considerable expense to my net worth I have bought factory Hornady and Winchester ammo any thoughts on which would be more accurate? Thank you in advance for your feedback.
Bill Seals
May 8, 2021
4:50 pm

Kingston, WA
Forum Posts: 11776
Member Since:
April 15, 2005
Offline
Bill,
If you take a look at the Winchester Collector magazine archives, you will find the article I wrote about the Model 43 Rifles in the Spring 2016 issue.  In it I discussed what the "A" serial number suffix specifically means.  Because the "A" is not technically part of the serial number, it was not listed in the PR records.
The letter "B" on the top of the magazine follower indicates a factory item.  In regards to the ammo, the only way to determine which brand will be more accurate, is to shoot it.  Each rifle is slightly different, and will shoot more accurately with a different load.  To give you an example, I tried more than a dozen different brands and bullet types in my Model 43 22 Hornet rifle, and it always shoots most accurately with the Remington 45-gr HP factory loads.  I tried 35-gr, 40-gr, and 45-gr loads, spire-point, polymer-tip, and hollow-point bullet loads, Federal, Hornady, Remington, Sellier & Bellot, and Winchester ammo, and in the end, the Remington 45-Gr HP loads consistently shot much tighter and consistent groups.  On a good day, I can consistently put 5-shots inside a dime @ 100-yds.  Conversely, my rifle will not shoot the Winchester brand 45-Gr SP bullet loads worth a damn (nearly 3″ groups @100-yds).
Here is the link to the Collector Magazine archive – Magazines | Winchester Collector
Bert
WACA 6571L, Historian & Board of Director Member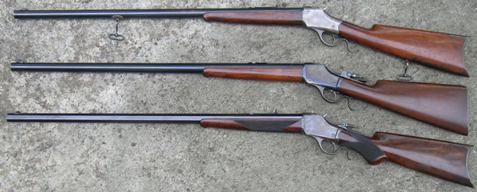 May 8, 2021
5:30 pm
Forum Posts: 2
Member Since:
January 24, 2021
Offline
---
Forum Stats:
Groups: 1
Forums: 16
Topics: 9057
Posts: 78041
Member Stats:
Guest Posters: 1216
Members: 10562
Moderators: 4
Admins: 3