OneShort
Hello,
Just came across this site a and have certainly enjoyed my time reading on here thus far.
I've come across two different dates for my 1894. One site says 1900 while I believe this site says 1903. I believe the 1903 date as more accurate as the rear sight list a 1901 patent date.
Serial number is 198567 and is a 1/2 round/octagon in 32 WS.
Here's a couple pictures below. (Edit – tried for over an hour and read the FAQ and I can't get pictures on here).  I'm also interested in obtaining the letter on this rifle from Cody in the very near future to find out as much info on it as I can. I'm just starting into discovering what all my 1894 is so any and all info is appreciated.
Last, where can I find original tang screws to replace the ones installed in there now as they don't look original? eBay?
Hello,
As an unregistered "Guest", you are not able to post pictures (or even just a simple post) without it being moderated. We do this to prevent Spammers from gaining access to our website.
The date of manufacture you found on the WACA website is the correct (accurate) date of manufacture.
Bert
WACA 6571L, Historian & Board of Director Member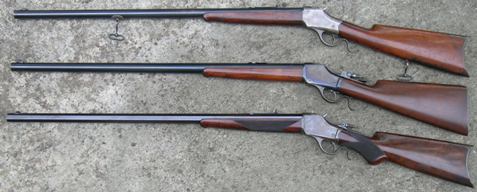 OneShort
Yes, the rear sight has been modified, along with several other items; specifically the barrel was not originally 1/2 octagon.  Somebody turned it down from a full octagon, and in doing so, the original front sight dovetail was removed.  The front sight on the barrel now is not a factory design.  Additionally, the original magazine tube retaining ring slot was obliterated when the barrel was turned down, and to fix that problem, the magazine tube was shortened and a new slot for the retaining ring was cut on the bottom of the barrel.
Bert
WACA 6571L, Historian & Board of Director Member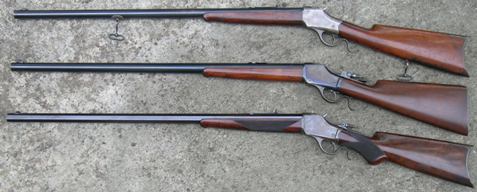 Thanks again Bert.  I haven't seen enough of these old 1894 to know what I'm exactly looking at.  I really appreciate your posts.
Is there any "saving" it at this point?  I mean, it's still a great hunting rifle and shoots really good.  It's been well used and hunted with and all the bumps and dings just fit the history of this rifle if it could speak. 
Would it be worth it to be on the look out for a barrel, magazine tube, tang screws, etc to bring it back to as close as it can to being how it left the factory? 
I have another 1958 model 94 in 32ws that I use as my go to hunting rifle so I haven't needed this one for the last several years I've gone out.  
I would not attempt to "save" it, as the damage has been done.  Trying to undo it will cost at least $500 (most likely several hundred more).  I would do nothing more than replace the tang screws.
Please tell me more about your 1958 Model 94 (I would like to add it to my research survey).
Bert
WACA 6571L, Historian & Board of Director Member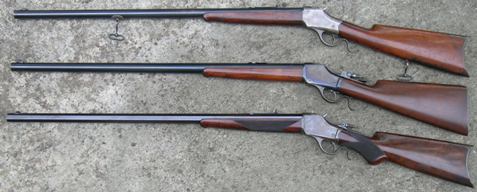 MJ Forrester said
What specific information are you looking for?  
Serial number, caliber, and configuration.  In your case all I really need is the serial number. as by 1958, the only thing offered was a standard configuration Carbine.  You already mentioned the caliber.
Bert
WACA 6571L, Historian & Board of Director Member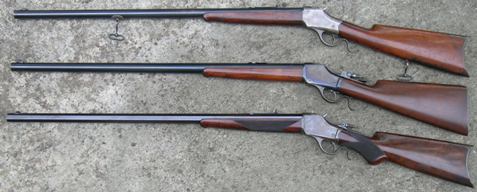 Most Users Ever Online:
628
Currently Browsing this Page:
1
Guest(s)
Forum Stats:
Groups: 1
Forums: 16
Topics: 10429
Posts: 89898
Member Stats:
Guest Posters: 1433
Members: 11521
Moderators: 3
Admins: 3
©
Simple:Press
—