Hi all,
Has a survey ever been done on the 157 casehardened 1894s to determine factors such as number of deluxe rifles, standard sporting, short rifles, other barrel lengths or engraving etc?
I know about the two carbines, but just wondering if a more in depth survey has been done.
Thanks!
-Chris
No, at least not that I am aware of. That stated, it is possible that the CFM records office (Jesi) may have undertaken such a survey.
Now, and from nothing more than just my own personal observations, most of the case color finished Model 1894s I have seen (including you father's very fine rifle) have been Fancy Sporting Rifles. It would not surprise me if the overwhelming majority of the (157) total were the same.
Bert
WACA 6571L, Historian & Board of Director Member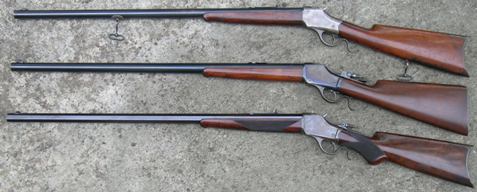 My apologies for resurrecting a dormant topic…. but I was searching for "case hardened 94". 
Yesterday, I met a fella who stated he had a 1920(ish) SRC that had a case hardened frame.  I suspect he has a silvered/ greyed out blued receiver but didn't argue.  I haven't seen it (yet) but is there a good way to determine between a silvered receiver and a faded out case hardened frame?  Are there any known 94's around 1920 that were case hardened?
Regards, Ron
Technically, the glass is always full; half liquid, half air....
WACA #10293
Ron,
Look at the gun overall, if it has some nice blue left on the barrel and tube you should see some case in protected areas on the bottom of the receiver at a minimum. If the gun does not have any finish left then you would have to pull the stock and look at the inside of the frame. I would put my money on a silver out blued frame.
Bob
WACA Life Member---
NRA Life Member----
Cody Firearms member since 1991

Email: [email protected]
Forum Posts: 958
Member Since:
December 21, 2006

Offline
I have Mod. 1894 ser# 15333. The gun letters as follows; rifle, 32-40, 28″ oct. bbl., plain trig. checkered stock, plain pistol grip, casehardened, rec'vd July 1 1887, shipped July2 1887. A couple of years ago at the Las Vegas show, Jessi (very graciously) and I spent a couple hours going through the records of the 157 lettered casehardened '94,s. Interestingly, this was the only one We could find in this configuration. If Jessi doesn't have a completed survey of these guns, it would surprise Me.      Harry
W.A.C.A. life member, Marlin Collectors Assn. charter and life member, C,S.S.A. member and general gun nut.
Harry,
The records for the 94's are not complete by any means, they only go up to 354,000 or 1907 so there is no records for a 1920's gun.
Bob
WACA Life Member---
NRA Life Member----
Cody Firearms member since 1991

Email: [email protected]
As Chris mentioned, Winchester ceased case color hardening receiver frames (for all model) in 1901 (August). The original Winchester records for the Model 1894 end in May of 1907. Therefore, the records list all (155) color case finished Rifles, and the (2) case color finished Carbines that were manufactured. Per the ARMAX survey, the final two Model 1894 rifles that were case color finished were serialized in October of 1900 (97991 & 97992).
A 1920s vintage Model 94 was originally blued.
Bert
WACA 6571L, Historian & Board of Director Member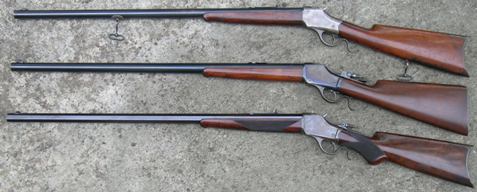 Most Users Ever Online:
628
Currently Browsing this Page:
1
Guest(s)
Forum Stats:
Groups: 1
Forums: 16
Topics: 10645
Posts: 91857
Member Stats:
Guest Posters: 1476
Members: 11720
Moderators: 3
Admins: 3
©
Simple:Press
—