Topic RSS


Australian Model 53 identification
October 17, 2019
9:23 pm

Kingston, WA
Forum Posts: 9978
Member Since:
April 15, 2005
Offline
Dave,
It would not have more than a few hundred $$$ value here in the U.S. Refinishing it would not increase its value. If you could find an original (correct) butt stock & plate, that would help it a bit. My advice is to simply clean it up, but do not refinish it.
Bert
WACA 6571L, Historian & Board of Director Member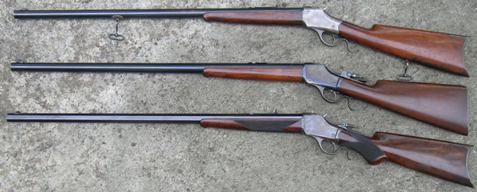 October 18, 2019
3:25 am
Cairns, Queensland, Australia
Forum Posts: 11
Member Since:
June 19, 2019
Offline
Thanks everyone for your thoughts on 32 20 vs pigs.
I asked a friend at the range about this yesterday. He said he had shot quite a few pigs through the chest with a 32 20 with good results BUT, he started out with a 22 long rifle single shot then a 310 cadet single shot. The 1873 in 32 20 was FABULOUS as he could get 4 pigs before the rest got away. Shot placement seems to be the key. He routinely drills the center out of the target in the lever action comps.
October 18, 2019
9:51 am
Forum Posts: 7
Member Since:
October 15, 2019
Offline
Thank you very much Bert for sharing all your knowledge and advice.
I will indeed clean her up a bit, I will have to tighten the ladder sight a bit too. But unless I trip over an original stock I don't think I'll bother, I quite like it the way it is, and knowing it's not historically valuable gives me a bit more comfort to be able to use it as it was always intended to be. I'm looking forward to spending some time working up some loads and enjoying this lil gun. 
as for the continued discussion about little guns and not so little piggies, I think as well as bullet placement the importance of projectile construction should not be forgotten either. Lever gun and black powder bullets are probably on average not only more limited in design options but also better constructed to penetrate, also the generally lower velocities would likely lead to less fragmentation, giving them a better chance of getting into the engine room.
 
the importance of bullet construction was something I had always read about and understood, but was really pointed out to me  one day with the .223 that I mentioned earlier and it's 60gr nosler ballistic tip and 60gr nosler partitions that I put through it. I had run out of partitions due to a shortage, and had tended to leave the pigs alone knowing that the ballistic tips wouldn't be ideal for the task. I only had the .223 with me and came across a pig at a water point one day that paid me no attention whatsoever when I pulled up, it was only about 50 yards away, grazing in a bit of a depression, I decided as it was side on and not going anywhere that I would take a chance and have a go with the ballistic tip, I aimed at the base of the ear and fired, the pig dropped, at the sound of the report another pig appeared from another depression and stood facing me looking at its buddy, needless to say I chambered another round and squeezed one off, this time aiming right between the eyes.
all that bloody pig did was shake its head for a second as if a bee had bitten it, then ran down into the depression to its buddy, nudged him a couple of times, up jumped the first pig and they both took off at a trot leaving me shaking my head too, but in disbelief. 
needless to say that was the last time I wasted a ballistic tip on a pig...
thanks again
Dave
October 21, 2019
10:10 pm

Forum Posts: 2557
Member Since:
March 20, 2009
Offline
I might alter the interpretation of the rifle just a bit.  Based on my survey of the Model 1892 rifles there is a change in the upper tang stamp style starting around SN 964500 from the Type 5 which has  MODEL  92 to the Type 7 stamp which has no Model designation on the tang and no dashes on the bottom two lines.  There is an earlier mix of Type 6 tangs starting exactly when the Model 53 was numbered in the 92 range but after 964500 the vast majority of 92's have the Type 7 stamp.  I am pretty certain that during this same time frame the Model 53 was exclusively built with Type 6 tang stamps.   So this may be a Model 92 rifle with a replacement barrel.  In addition I have found a good portion of Australian Model 1892 and 92 rifles which have replaced barrels.  These rifle have seen FAR more usage than a typical US rifle. 
Michael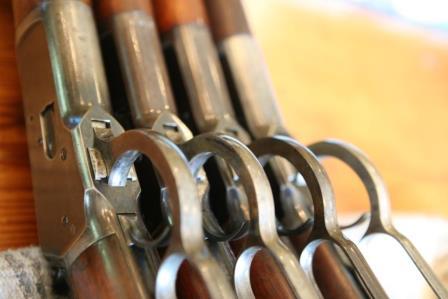 Model 1892 / Model 61 Collector, Research, Valuation
October 22, 2019
7:18 am
Forum Posts: 7
Member Since:
October 15, 2019
Offline
Hi Michael,
that seems interesting, what would have had to go wrong with the original model 53 that donated my barrel to the 92 that they didn't just swap the entire rifle? Especially if this was happening often, or did Winchester supply new model 53 barrels as replacement barrels at some stage to get rid of surplus stock?
and if your hypothesis is indeed accurate do I now have to pay a collector to take this rifle off my hands 😉
thanks,
Dave
---
Forum Stats:
Groups: 1
Forums: 16
Topics: 7288
Posts: 60304
Member Stats:
Guest Posters: 985
Members: 9268
Moderators: 5
Admins: 3