Topic RSS


Winchester 94 value and question
November 10, 2013
8:14 am
Forum Posts: 5
Member Since:
September 29, 2013
Offline
I just ran across a model 94 Winchester 30-30 that was manufactured in 1968. This gun is in 98% condition and does not look like it has been fired much if at all. There is no box or paperwork. I have two questions: Do you feel the price of 350.00 is a good price and do you feel these Winchesters(even though they are not pre 64) will continue to rise since they still do not have cross bolt safety or tang safety? Also the butt plate on this one does not have Winchester on it. It appears to be metal but is not marked Winchester. Is this correct? Thanks!
November 10, 2013
9:58 am

Kingston, WA
Forum Posts: 11131
Member Since:
April 15, 2005
Offline
Gunny,
In the condition you describe, the asking price is reasonable.
I can not say with any surety what will happen to the value in the future, but I suspect that the value of a post-1963 production Model 94 is not going to increase by any significant amount in the coming years.
Bert
WACA 6571L, Historian & Board of Director Member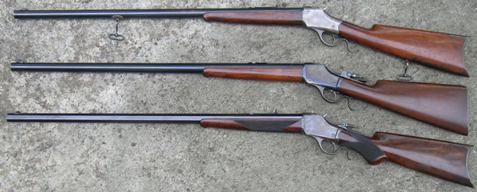 November 10, 2013
2:02 pm
Forum Posts: 185
Member Since:
January 19, 2013
Offline
Its already worth more around here then the asking price. A carbine as you describe would be advertised and sold for at least $400 if not $450 on any of the local or regional discussion groups. Or other online classifieds.
They are being bought as shooters not collectables and as such you have to compare them to what a new lever action 30-30 might sell for.
IMHO
November 11, 2013
7:46 am
Forum Posts: 312
Member Since:
November 8, 2011
Offline
That's a fair price. For a gun that will have better appreciation potential, I would suggest a pre 64 model 94. While you probably won't find one in 98% condition for $350, there are some decent condition guns available in that price range. I think those would serve you better from an investment standpoint and you could use them without worrying too much about hurting their value.
November 11, 2013
4:26 pm
Forum Posts: 318
Member Since:
September 9, 2011
Offline
November 12, 2013
7:53 pm
Forum Posts: 5
Member Since:
September 29, 2013
Offline
I appreciate the replies. I have a couple pre 64 winchesters and I know they are the best. Does anyone else ever just have a hard time passing up an old Winchester even if it is a 1968? I see it and its in great condition and it is hard to pass up. I know Im better served to keep looking and be patient. Thanks for the input!
November 13, 2013
4:58 am
Forum Posts: 99
Member Since:
June 24, 2010
Offline
November 14, 2013
10:59 am
Forum Posts: 1515
Member Since:
December 31, 2012
Offline
November 15, 2013
12:47 pm
Forum Posts: 5
Member Since:
September 29, 2013
Offline
November 15, 2013
5:06 pm
Forum Posts: 312
Member Since:
November 8, 2011
Offline
November 18, 2013
8:49 pm
Forum Posts: 5
Member Since:
September 29, 2013
Offline
November 19, 2013
6:51 am

Kingston, WA
Forum Posts: 11131
Member Since:
April 15, 2005
Offline
November 20, 2013
6:06 pm
Forum Posts: 5
Member Since:
September 29, 2013
Offline
December 9, 2013
10:10 am
Forum Posts: 15
Member Since:
January 11, 2012
Offline
December 9, 2013
1:31 pm

Kingston, WA
Forum Posts: 11131
Member Since:
April 15, 2005
Offline
---
Most Users Ever Online: 628
Currently Online: Burt Humphrey, Accumulator
25 Guest(s)
Currently Browsing this Page:
1 Guest(s)
Forum Stats:
Groups: 1
Forums: 16
Topics: 8356
Posts: 71289
Member Stats:
Guest Posters: 1131
Members: 10021
Moderators: 4
Admins: 3