Topic RSS


Second time posting - Purchased 2 Model 94s with Questions
January 24, 2013
4:39 am
Forum Posts: 3
Member Since:
February 15, 2011
Offline
Hello to all. This is one of 8-10 gun forums of which I am a member, though this is only my second posting. I bought 3 lever action rifles yesterday, 1 Marlin and 2 Winchester Model 94's. Both are rather unique. First is serial #2824xxx which shows to be made in 1965. Rifle is in extremely good condition but has a nickel/polished stainless/chrome(?) receiver. I spent a good deal of time researching the rifle but cannot find the exact gun. Stock is rather blond in color. Rifle does have steel buttplate. I would love any information regarding whether this was an option at the factory or a post-production finish on the receiver. Second rifle is more exciting to me, serial #1472xxx which shows to be made in WWII war era between 1943-48. Rifle is in very good condition, perhaps excellent for it's age. The hammer has lines rather than checkered. I suspect the sling swivels are not original. I may have to sell one and I wish to keep the one most collectible. I suspect the war-time gun is the one. Caliber is marked 30 WCF. Any comments would be appreciated. If allowed on this site, any ideas to value would be helpful. Thank you…I have photos. Can I download from this site or must one use Photobucket, etc?[/img]
January 24, 2013
11:47 am

Kingston, WA
Forum Posts: 11836
Member Since:
April 15, 2005
Offline
The 1965 vintage gun was originally blued, and somebody polished it after the fact. The early post-1963 Model 94s were/are notorious for not holding the bluing very well. The blond colored stock is indicative of it being sanded and refinished. Good clear pictures will help to verify what has transpired.
Model 94 serial number 1472000 is a post-war 1947 vintage "Flat-band" Carbine. The serrated hammer is correct. Pictures of it would help to assess the potential value.
You will need to use Photobucket (or similar) to post pictures on the WACA website.
Bert
WACA 6571L, Historian & Board of Director Member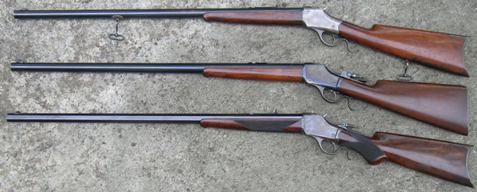 January 24, 2013
12:31 pm
Forum Posts: 3
Member Since:
February 15, 2011
Offline
---
Forum Stats:
Groups: 1
Forums: 16
Topics: 9152
Posts: 78842
Member Stats:
Guest Posters: 1234
Members: 10619
Moderators: 4
Admins: 3