Topic RSS


Caliber location & style
April 2, 2013
3:57 pm

Forum Posts: 617
Member Since:
July 7, 2011
Offline
There seems to be a large s/n overlap from the caliber being stamped on the top of the barrel to being stamped on the side but, this rifle has the dash and caliber right after the Nickel steel stamp which I thought was used later. Any comments?
s/n 209527
Cody Info
s/n applied 2-04-1904
type rifle
caliber 30
barrel type octagon
trigger plain
takedown
7-25-1904 from stock – 24" barrel
in warehouse 2-16-1904
shipped 7-28-1904
order # 238822
http://www.gunsinternational.com/Winchester-Model-1894-Takedown-30-WCF.cfm?gun_id=100313161
Paul
April 3, 2013
5:26 am

Forum Posts: 2717
Member Since:
March 20, 2009
Offline
Paul,
According to Renneberg proof stamps start to show up in the 270,000 range so this rifle would be about 40,000rifles, or about one full year too early for that. The combination of proofs and the later caliber stamp placement would then point to a probable barrel replacement at some time after this style of barrel markings became the norm.
You wrote:
There seems to be a large s/n overlap from the caliber being stamped on the top of the barrel to being stamped on the side
In my work on the 1892's, the transition range is approximately 30,000 rifles but it also is different for various calibers. It is still later before the barrel address makes the same move to the left side.
Michael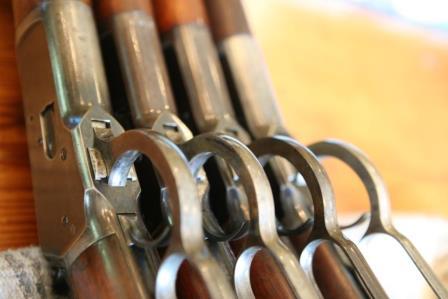 Model 1892 / Model 61 Collector, Research, Valuation
April 5, 2013
7:12 am

Forum Posts: 617
Member Since:
July 7, 2011
Offline
The photo from Twobit above is s/n 209527. The barrel was probably replaced but not mentioned in the Cody info or the original ledger copy as an r&r. The receiver has a proof mark.
s/n 878350, 876321 & 849277 all have this style caliber marking with the dash. I would like to narrow down the range when Winchester went to this caliber marking. If you have any rifles with this marking that are lower than s/n 849277, I would like to have the s/n, even if just the first 3 digits. I went back through BOBR94's book and it does not really help with when this stamp was being used. I was going to post photos of the 3 rifles I listed but, the new photobucket format is giving me problems.
[Image Can Not Be Found]
Thanks for any help.
You can post the info here or PM me or e-mail me.
Paul
prspring@aol.com
---
Most Users Ever Online: 628
Currently Online: RickC
37 Guest(s)
Currently Browsing this Page:
1 Guest(s)
Forum Stats:
Groups: 1
Forums: 16
Topics: 9177
Posts: 79013
Member Stats:
Guest Posters: 1237
Members: 10629
Moderators: 4
Admins: 3