Topic RSS


94 Winchester - What is with the prices?
June 6, 2013
10:32 pm
Forum Posts: 418
Member Since:
March 6, 2011
Offline
June 7, 2013
3:44 am

Forum Posts: 2741
Member Since:
March 20, 2009
Offline
June 7, 2013
6:27 am

Kingston, WA
Forum Posts: 11941
Member Since:
April 15, 2005
Offline
The prices have done nothing but gone up for the high condition pre-1964 Model 94s. $600 is a steal for a 95% condition gun. You might want to take a look at the prices Larry Shennum and I have listed in "The RED BOOK of WINCHESTER Values". What I find more shocking to me, is that there are a lot of people out there that are willing to pay $300 – $400 for a post-1963 production Model 94 😯
Bert
WACA 6571L, Historian & Board of Director Member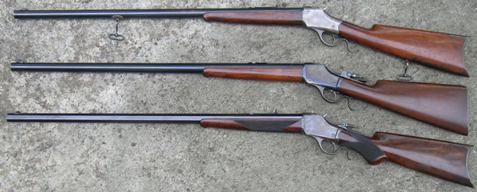 June 7, 2013
8:55 am
Forum Posts: 1632
Member Since:
December 31, 2012
Offline
Under rated for years, the M1894's and M94's have finally come on to their own. I would advise snapping a few up now as the prices are starting to go up. There are many variations of this model, some cheap and some not so cheap. Deals abound as they made millions of M94's. Last year at the Reno show, I was looking for a shortwood pre 64 for a filler in my collection. Prices for nice ones exceeded $800+ so I passed. On the last day of the show, just as it was closing, my table partner directed me to an absolutely drippy mint, 1960 vintage M94 shortwood he had spotted. After some negotiation, I bought this beautiful 30-30 carbine for $750. That left me with $50 to get home on. The 30-30 and 32 WS carbines and rifles are fairly cheap. When you get into the 38-55, 32-40, and 25-35, the prices sharply increase. I just bought a pretty nice 25-35 Flatband for $1,600, and I think that was pretty much a steal. Yep, buy em now or you will be sorry later. Big Larry
June 7, 2013
6:08 pm
Forum Posts: 287
Member Since:
November 17, 2011
Offline
Darn! Now the secret is out! I have been hoarding them for some years now. Got about 25 stashed away. I believe they will only go up in value. I sell nice ones on GB now and then. Sometimes they go into the $1500 range and over. One went for $1700. Some only to $1200'ish. They have to be near mint to get that high and also have a bit of bidding war going on. Good average 85% guns only get to $600 or less.
June 7, 2013
7:20 pm
Forum Posts: 318
Member Since:
September 9, 2011
Offline
I guess these pre-64s are just catching up. All it takes is YEARS. When I was actively collecting Winchesters most pre-64s were too modern. I never even bought a post-war Winchester at any price. Latest one I owned was a 1930 carbine that I still use as my saddle gun. I figured it was made too late to be collectable.
June 7, 2013
9:29 pm

Kingston, WA
Forum Posts: 11941
Member Since:
April 15, 2005
Offline
---
Forum Stats:
Groups: 1
Forums: 16
Topics: 9346
Posts: 80604
Member Stats:
Guest Posters: 1262
Members: 10755
Moderators: 4
Admins: 3