Topic RSS


1895 marking
June 20, 2021
11:17 pm

Norwood1090
Dear Sirs:  I would appreciate if anyone can help me with two questions regarding my 1915 production, .303 British chambered, 1895 Winchester rifle with the letters C.A. stamped on the left rear of the receiver.  How many commercial production rifles were chambered in .303 British and does anyone know what the letters C.A. might stand for.  Thank you.  Norwood.
June 21, 2021
1:21 pm
Forum Posts: 803
Member Since:
December 21, 2006
Offline
June 21, 2021
2:46 pm

Norwood1090
June 21, 2021
2:52 pm

Kingston, WA
Forum Posts: 11852
Member Since:
April 15, 2005
Offline
Norwood1090 said
Henry:  I cannot seem to post photos successfully from my Macs.  Could you give me a number to text to, or an address to send to?  Norwood.  
As a "Guest" on the WACA website, you do not have the requisite permission to directly upload pictures. What you can do instead, is to load your pictures on a photo hosting web service, and then post the URL to that website in your post here on the WACA website.
Bert – Admin 
WACA 6571L, Historian & Board of Director Member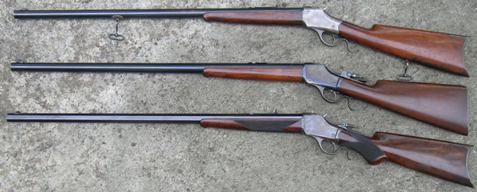 June 21, 2021
5:12 pm

norwood1090
July 4, 2021
8:11 am
Sydney Australia
Forum Posts: 131
Member Since:
February 4, 2008
Offline
July 16, 2021
1:54 pm

Norwood1090
July 17, 2021
10:19 am
Sydney Australia
Forum Posts: 131
Member Since:
February 4, 2008
Offline
July 18, 2021
4:28 pm

Kingston, WA
Forum Posts: 11852
Member Since:
April 15, 2005
Offline
---
Forum Stats:
Groups: 1
Forums: 16
Topics: 9182
Posts: 79069
Member Stats:
Guest Posters: 1238
Members: 10633
Moderators: 4
Admins: 3