Topic RSS


Tang markings for the surveys 1894
September 27, 2019
12:12 am

Forum Posts: 77
Member Since:
May 26, 2018
Offline
September 27, 2019
1:43 am

Kingston, WA
Forum Posts: 9682
Member Since:
April 15, 2005
Offline
In answer to your question, there were nine different upper tang marking types for the Model 1894/94.  I have them listed as follows in my research survey, with the approximate serial number ranges for each type.  As with all manufacture/production changes that Winchester made, there are outliers, and a slightly broader serial number transition zone for each type.  The transition ranges are still being refined as the survey continues.  That started, my observed numbers below are relatively close.
1.  Type 1, serial range 1 - 15100
2.  Type 1A, serial range 15101 - 222500
3.  Type 2, serial range 222401 - 450000
4.  Type 3, serial range 450001 - 690000
5.  Type 4, serial range 690001 - 897000
6.  Type 5, serial range 897001 - 1018900
7.  Type 5A, serial range 1015300 - 1019500
8. Type 6, serial range 1019501 - 1166500
9.  Type 7, serial range 1166501 - 1343183
Bert
WACA 6571L, Historian & Board of Director Member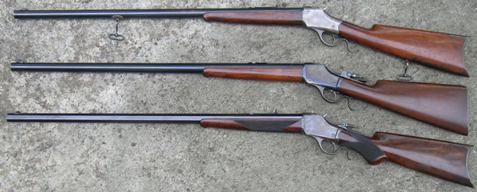 September 27, 2019
4:15 am

Forum Posts: 77
Member Since:
May 26, 2018
Offline
So what I have picked up is a Model 94 in 30 WCF with a 20 inch barrel.
The serial number is 1226438
The upper tang marking is a type 6
Buckhorn rear and ramp front sight with a hood,  looks like the bead is missing.
Front band is figure 8 or shaped
Magazine is full,  maybe 1/8" inch short of the muzzle
Eastern Carbine
Straight Stock
Hammer is checkered approx 1/2"
No stock checkering
Steel buttplate on "shotgun" style stock, straight line pattern.  I would have thought walnut stock but maybe "gum"?
3d owner,  father to son to me.
97+ original finish,  perfect bore.
Hope this fills a hole in your survey,  thanks for your efforts and work in this respect.
September 27, 2019
12:06 pm

Kingston, WA
Forum Posts: 9682
Member Since:
April 15, 2005
Offline
September 27, 2019
12:44 pm

Forum Posts: 77
Member Since:
May 26, 2018
Offline
December 17, 2019
10:34 am

Rick Honn
Hello, Bert.
I saw this survey on another site that will not allow me to register

, so I thought that I would post it here.  I have a "new to me" Winchester Model 94, caliber .32 Win Spl.  It's a replacement for the one my grandfather gave me way back when.  Anyhoo, depending on the site I check, the weapon is showing a Manufactured Date of either 1939 or somewhere between 1941 and 1942.  Not sure which one to trust.
Survey:
Serial Number:  1205531
Caliber Stamp Marking:  32 - W. S.
Butt plate:  Middle is serrated, top and bottom is flat steel
Upper tang:  Blank (looks like it was replaced.  the steel looks different)
Left side of the receiver:  Not sure.  It looks like I'm missing an entire top row of screws or pins.  Looks like one missing on the right side, too.
US Martial or Canadian PCMR marking:  No
Barrel is marked "Proof Steel"
Saddle ring:  No
Receiver bottom:  "W" is marked.  Also, directly in front of the trigger is a stamp "85"
I'm also missing the front site hood.  Need to find someplace reliable to order my missing parts.
Rick
December 17, 2019
11:29 pm

Kingston, WA
Forum Posts: 9682
Member Since:
April 15, 2005
Offline
Hello Rick,
Your Model 94 Carbine was manufactured in March of 1939. It should not have a blank upper tang, If you can, send me a celar close-up picture of the upper tang.
Bert - Win1885@msn.com
WACA 6571L, Historian & Board of Director Member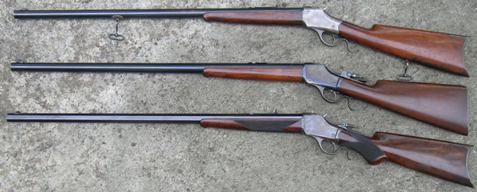 ---
Forum Stats:
Groups: 1
Forums: 16
Topics: 6987
Posts: 56803
Member Stats:
Guest Posters: 946
Members: 9027
Moderators: 5
Admins: 3