Greg Slobodzian
Hi Bert, saw you were were doing a survey of model 65's.  I just acquired a 65 with sn: 1004000 in 218 Bee.  Year of mfg 1937 which I believe makes it a first year 218 Bee production.
It has the cast front endcap with sling mounting hole.  It came with a military style Winchester marked leather sling w/quick dismount snap swivels.
There are no mounted sights.  The front ramp and the rear sight dovetails have fillers inserted. 
The rear sight location appears to be devoid of any indication of ever having a rear sight since there are no marks on the barrel indicating the presence of an elevator wedge.  The front sight ramp does indicate that a hood was present in the past but it is gone now.
The barrel has a mounted Lyman Targetspot 8x scope sn:3270 (not an STS).  I don't know what year Lyman began 8x Targetspot production???
It's a nice clean rifle showing use but not abuse.
I used to be a WACA member but let my membership laps since I moved to Port Orchard, WA.
Feel free to contact me by email if you'ld like some photos, or would like to come by and see my collections.
Notice you're in Kingston… I take that ferry frequently.
Best regards
Hello Greg,
Your Model 65 was recently in the Rock Island auction, so I will assume that is where you bought it from.  The serial number identifies it as a 1938 production rifle.  There is a 2-digit year (date) marking on the bottom of the barrel right next to where it screws into the receiver frame.  Simply remove the forend stock nose-cap, which allows the stock and magazine tube to be removed.
I have an office at PSNS and the Bangor Submarine base.
Please send pictures to me at [email protected]
Bert
WACA 6571L, Historian & Board of Director Member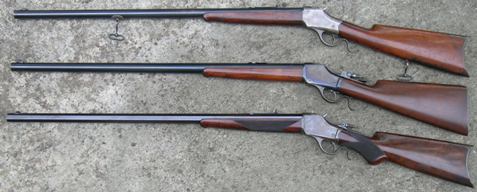 Greg Slobodzian
You are correct the barrel is marked 38.  My Madis book shows the receiver date as a 37, but that may be an estimate since I don't think exact records exist for this period.  Plus the complication of the depression and sluggish sales it may be hard to know for sure just what happened when.  RIA dated it in 37 so they must be using a similar source to mine.  I don't know if Winchester would have sold it with a Lyman Targetspot scope?  I have 3 Winchesters fitted with Targetspots, an 1885 in 30Krag and a model 52C that also has Redfield Olympic mounts so it can be switched between scope and iron sights.
Perhaps your survey of the 65's are revealing better insights into the dates of receiver/barrel manufacture, or maybe it's a jumble?
I'll send photos when I have time to take some.
Best regards
Greg
Greg,
Most of the published Winchester DOM lists are not accurate, including Madis' books.  It is very unlikely that Winchester installed a Lyman Targetspot scope.  Yes, my continuing research surveys are revealing much better insight into the actual production history of many of the later models.  Serial number 1004000 was manufactured in the latter part of the year 1938.  Serial number 1004654 was manufactured on 12/6/1939, and 1004978 was manufactured on 2/12/1940. Both of those dates were verified in Winchester's original serialization records.  My current estimate is that serial number 1004200 was the last one made in 1938.
Bert
WACA 6571L, Historian & Board of Director Member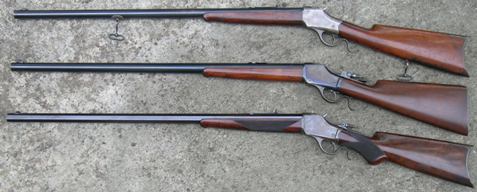 Forum Posts: 1234
Member Since:
May 24, 2012

Offline

Virginia
Forum Posts: 176
Member Since:
September 7, 2017

Offline
Big Mac said
Bert,

For the Model 65 survey.  I am looking at serial # 1007068, .32 WCF, standard rifle with 22″ barrel, sporting rear sight (22H?), hooded front sight.  Is this new to the survey?

Thanks

Mac  
Yes, it is a new entry for the survey.  I have serial numbers 1007066 and 1007073 in the survey both are also standard rifles in 32 WCF.
Bert
WACA 6571L, Historian & Board of Director Member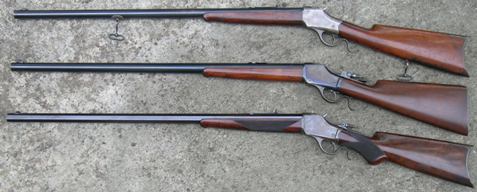 Ohio
Forum Posts: 353
Member Since:
May 26, 2017

Offline
WACA 6571L, Historian & Board of Director Member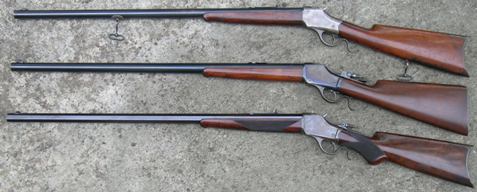 Most Users Ever Online:
628
Currently Browsing this Page:
1
Guest(s)
Forum Stats:
Groups: 1
Forums: 16
Topics: 10412
Posts: 89723
Member Stats:
Guest Posters: 1431
Members: 11501
Moderators: 3
Admins: 3
©
Simple:Press
—