Topic RSS


DCP marked Model 1892 Carbines
July 18, 2018
12:27 am
Sydney Australia
Forum Posts: 99
Member Since:
February 4, 2008
Offline
November 13, 2018
6:25 pm

WDWright
November 13, 2018
8:22 pm

Kingston, WA
Forum Posts: 10191
Member Since:
April 15, 2005
Offline
November 14, 2018
1:22 am

Forum Posts: 2566
Member Since:
March 20, 2009
Offline
WDWright said
Hello, I have an 1892 44-40 saddle ring carbine with DCP marking. 

Serial number 736343. 

It was handed down to me from my father from his dad.  Used still today for deer, has lots of character marking, no rust. 

Not sure of mfg. date.  
WDW
Send me an email at 2bitrifles@gmail.com and I will forward and article which will shed more light on the history of your rifle.
thanks for the info.
Michael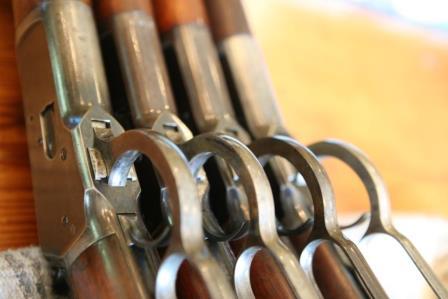 Model 1892 / Model 61 Collector, Research, Valuation
December 9, 2018
10:37 am
Sydney Australia
Forum Posts: 99
Member Since:
February 4, 2008
Offline
July 31, 2020
7:38 pm

Cory
aland said
Thats a good question Jim.

 

The short answer is its the initials of Dominion of Canada Proof or DCP for short.

 

In 1915 Britain was desperately short of rifles for its army, one way or obtaining more rifles was to take them off the Royal Navy. This meant that these navy rifles would have to be replaced with something. Arisaka rifles and carbines were sourced from Japan and Ross files from Canada.

 

In addition to these 20,000 Model 1892 SRC's in 44WCF and 5,000 Model 1894 SRC's in 30WCF were purchased through Winchester. These or at least most of them were inspected and proofed by Canadian inspectors on behalf of the British government at the Winchester factory. These carbines were then stamped with the proof mark of DCP through crossed pennants.

 

In addition to the Winchester carbines, 4,000 Remington Model 14 1/2 rifles were purchased through Remington and these were also inspected by Canadian inspectors and received the DCP mark. Also 4,500 Remington rolling block rifles in 7mm were also purchased.

 

The above carbines and rifles were mostly issued to trawlers and miscellaneous craft for protection against mines and German E and U boats. These is at least one noted instance of a Winchester 'repeater' being used against a German U boat to good effect, (damn good show!)

Hope the above is of interest.

 

Regards

 

AlanD

Sydney  
I am looking at buying one of the 5000 winchesters from the royal army , any more info you have on it would be great ? This one has a stamp W.Edwards on it , does that mean anything to you?
August 1, 2020
12:36 pm
Sydney Australia
Forum Posts: 99
Member Since:
February 4, 2008
Offline
The 5,000 Winchester Model 1894's were purchased by Sir Trevor Dawson, Managing Director of Vickers Ltd, on behalf of the Admiralty. These carbines along with 4,000 Remington Model 14 1/2 rifles and 2,000 Winchester  Model 1892 SRC's and 250 Ross rifles - model as yet unknown- were purchased at the same time.
Theses were all intended to be issued to miscellaneous craft such as trawlers, thus allowing .303 rifles to be used at the front. In the 1920's several thousand of the Model 1894's were sold off through a company acting as the government agent, called A Fleming & Co.
The name on your rifles is most likley that of its owner after the carbine saw military service.
I have a data base of serial numbers of these DCP carbines and would like to add your guns serial number if you would like to share this.
Regards
AlanD
---
Most Users Ever Online: 628
Currently Online: wg1776, rwsem
28 Guest(s)
Currently Browsing this Page:
1 Guest(s)
Forum Stats:
Groups: 1
Forums: 16
Topics: 7500
Posts: 62345
Member Stats:
Guest Posters: 1021
Members: 9435
Moderators: 5
Admins: 3