Topic RSS


1886 Surveys-How Many Takedowns?
April 28, 2017
6:12 pm
Forum Posts: 101
Member Since:
February 5, 2016
Offline
I note in the surveys I have seen by Madl and Porter there is little data on the types of frames, solid or takedown. I have seen it addressed in caliber surveys like  Paul and Adams did on the 50/100/450. Why is that, as it is normally noted on the factory records? Does any one have the takedown data on the 1886?
Cheers
Kirk
April 28, 2017
7:22 pm

Kingston, WA
Forum Posts: 9528
Member Since:
April 15, 2005
Offline
Kirk,
I am not aware of anyone that has specifically tried to count the number of Model 1886 Takedowns, but from my personal experience, the number is very likely to be 30,000, and possibly as high as 40,000. In an on going survey of the 8,200 Model 1886 serial numbers that can not be lettered, 112 out of 168 (66.67%) found thus far are Take Downs.  When the 33 WCF was introduced in 1903, more than 50% of them were made as Take Downs, and a large number of the 45-70 ELWs were also Take Downs.
Bert
WACA 6571L, Historian & Board of Director Member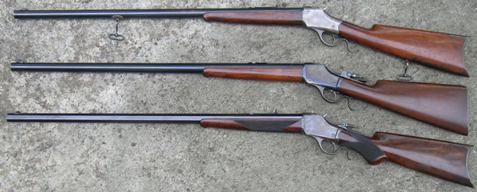 April 29, 2017
2:57 am
Forum Posts: 18
Member Since:
June 22, 2014
Offline
April 29, 2017
9:09 pm

Kingston, WA
Forum Posts: 9528
Member Since:
April 15, 2005
Offline
callaway kid said
Bert,  any idea what percentage are octagon barrel take downs?  The seem to be fairly rare.  Thanks  
No, I do not, but over the past many years, I have see a fair number of them. If I had to guess, I would put the number at approximately 10%.  John Madl and Russ Day will have a better idea on this subject than I do.
Bert
WACA 6571L, Historian & Board of Director Member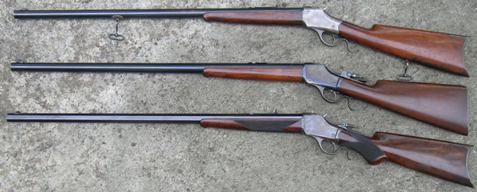 April 29, 2017
9:29 pm
Forum Posts: 101
Member Since:
February 5, 2016
Offline
April 29, 2017
9:32 pm
Northern edge of the D/FW Metromess
Forum Posts: 2180
Member Since:
November 7, 2015
Offline
Life Member TSRA, Endowment Member NRA
BBHC Member, TGCA Member
Smokeless powder is a passing fad! -Steve Garbe
I hate rude behavior in a man. I won't tolerate it. -Woodrow F. Call, Lonesome Dove
Some of my favorite recipes start out with a handful of depleted counterbalance devices.-TXGunNut
Presbyopia be damned, I'm going to shoot this thing! -TXGunNut
May 1, 2017
10:58 pm
Forum Posts: 101
Member Since:
February 5, 2016
Offline
---
Forum Stats:
Groups: 1
Forums: 16
Topics: 6691
Posts: 53948
Member Stats:
Guest Posters: 903
Members: 8798
Moderators: 4
Admins: 3