Topic RSS


"NOT MADE IN ENGLAND" M94
March 27, 2018
3:19 pm

olgrouser
On a recent trip through the Maritimes I picked a vintage 1940 production Winchester 94 #1227XXX, in 30-30 with unusual London Proof House markings and additional "NOT MADE IN ENGLAND" stampings, a rack number – # 29, a second engraved serial number on the receiver and holes for swing swivels, both back and front.
Also, twenty number "1"s are stamped into the butt stock which one assumes denote "kills." The rifle has a Lyman # 2 tang sight and a Marbles rear sight, and generally is well preserved.
MWAG is the rifle was used in the Home Guard or military to clear runway of roe deer from an air field in England.
Any ideas, insights and info about a military M94?
Thx in adavance.
March 27, 2018
5:34 pm

Kingston, WA
Forum Posts: 11852
Member Since:
April 15, 2005
Offline
The partial serial number (and we strongly encourage everyone to provide complete serial numbers) suggests that it was manufactured 1940. The markings on it suggest that it was a "Lend Lease" firearm, shipped to the UK during the early part of WW II.
Bert
WACA 6571L, Historian & Board of Director Member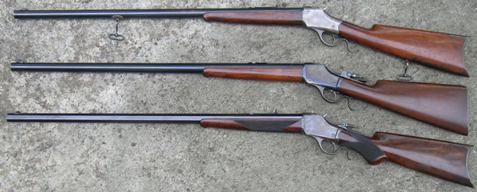 March 27, 2018
7:43 pm

olgrouser
Thx for your timely response.
Do the British have any records that may enable us to track the history of firearms which may have been overseas in the Lend-Lease program?
Are there any other means of tracking these firearms from that period?
BTW, what were the production number of 94s in 1939 and 1940?
March 27, 2018
8:35 pm

Kingston, WA
Forum Posts: 11852
Member Since:
April 15, 2005
Offline
April 1, 2018
1:07 am
Sydney Australia
Forum Posts: 131
Member Since:
February 4, 2008
Offline
I suspect the marking you refer to is NOTENGLISHMAKE without any gaps. This mark was applied to non British made guns being proofed between 1925 and 1955. Although the practice seems far from universal, it may have only been done by the London proof house as opposed to the Birmingham proof house, I will need to check.
You mention that the London proof marks are unusual, in what way? Are you able to post any photos? If you are not sure how to do this you can e-mail the photos to myself or Bert H and we can post them.
To the best of my knowledge no Model 1894 carbines were  supplied to the UK under Lend Lease or off the shelf "cash & carry". They do not show up in the detailed listings of U.S. small arms supplied under Lend Lease. The only reference to them in British records is in one of the large contract ledger books. I have a copy of this but not to hand, from memory the order was for a few thousand carbines in .30/30 but written next to this in red ink is the word "cancelled". No doubt some were gifted under the auspicious of the American Committee for Defense of British Homes, however these never received any official military markings.
As an aside there is one Model 1894 .30WCF carbine in the UK that was allegedly bought from a British government sale of surplus small arms after the war, the story being that it was one of a batch that were trialed by the Tank Corps as a sort of personal defense weapon, when the crew had to bail out of their tank. There is no official paperwork to support this, so this is all purely anecdotal.
If your carbine does have British military acceptance markings from WW2 it will be the first I have seen and will be exceedingly rare. I can confirm either way with some photos.
Regards
AlanD
Sydney
---
Forum Stats:
Groups: 1
Forums: 16
Topics: 9182
Posts: 79061
Member Stats:
Guest Posters: 1238
Members: 10632
Moderators: 4
Admins: 3